This year's show featured attendance by a total of 122 companies and organizations representing manufacturers, dealers, parts and accessory suppliers, road safety promotion groups and other participants. With those ranks naturally including the four JAMA member motorcycle manufacturers, we take great pleasure in profiling their displays below.
Yamaha
The theme chosen for the Yamaha booth was: "Creating Drama: Japan Cruising." New models engineered to live up to the promise of new drama included the "MT-09" (846cc) and "MT-07" (689cc) – two streamlined sports machines built to richly convey the intuitive sensations and pleasures of motorcycling. Also on display was the "Bolt" (941cc), a cruiser fusing a slim and compact body with air-cooled V-Twinengine; along with the "MAJESTY S" (155cc) scooter proudly instilled with the stellar riding performance and sleek design of the "MAJESTY" (250cc), a recognized leader on the big scooter market.
Yamaha likewise proudly previewed the "R25" (249cc), a road sports model developed along the concept of "Your Everyday Super Bike," and the "TRICITY" (124cc) perfected along the "New Standard City Commuter" concept to help fuel a new commuter market characterized by handling ease closely equivalent to AT models. Both of these reference models are slated for market release by the end of the year.
According to Yamaha booth staffers, visitors showed the keenest interest in the MT-09, MT-07, MAJESTY S and R25. The particularly high attention claimed by the R25, meanwhile, was interpreted as a reflection of the excitement of motorcycle buffs at seeing yet another new and dynamic option added to the already energetically flourishing 250cc class road sports market.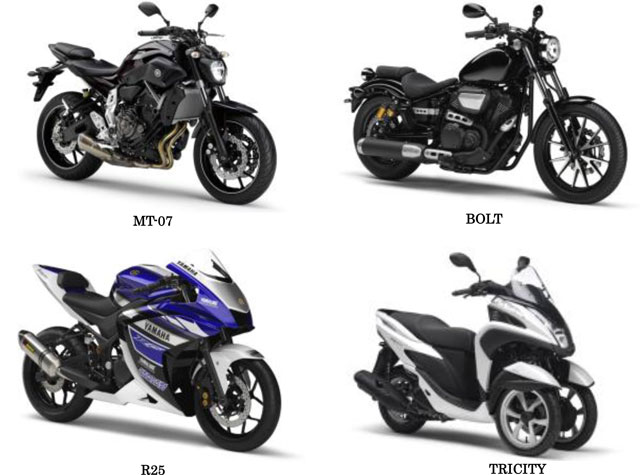 Honda
Scheduled to market over 20 new models during the first half of the year alone, Honda used this show to exhibit a number of impressive offerings geared to the demanding expectations of motorcycle enthusiasts. They included the new 50cc-class scooter "Dunk" (49cc displacement) released in February, the remodeled PCX (124cc), CBR250Rand other models rich in variety. Along with these smaller units, the CB1300 SURER FOUR and other large-size selections generated the greatest degree of attention among booth visitors.
The Honda exhibits included 8 motorcycles scheduled for the market soon. Among these, claiming the highest interest among guests was the "NM4" (745cc), making its global debut on this occasion. Talking with Honda booth staffers, it was learned that the NM4 represents a new concept machine outside any of the company's existing model categories. More specifically, the unique styling reflects a design setting it clearly apart from any motorcycle marketed to date, with the NM4 engineered to allow riders to savor new and more exciting riding dimensions.
The view across theinstrument panel from the riding position, which adopts an embedded design that largely integrates the seat into the body, generatesthe image of a unique near-futuristic machine unseen on Japan's roads to date. Judged by visitor reaction, this is a product destined to reap intense recognition not only among motorcycle buffs, but also across a broad range of persons including many with little original interest in motorcycles.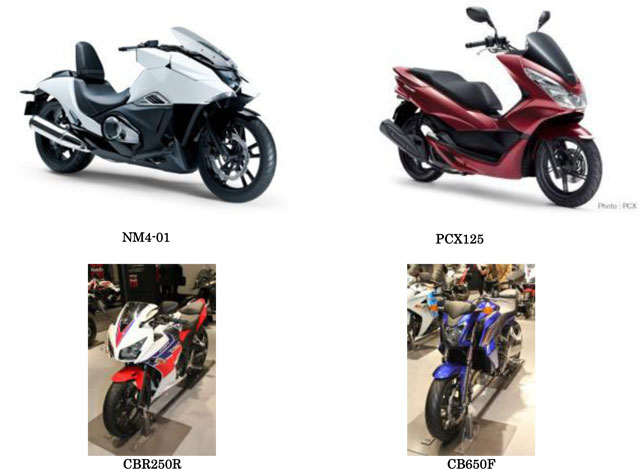 Kawasaki
The Kawasaki booth was arranged in a "3-island" layout featuring three different series –the Ninja Series, Z-Series and Neo Classic Series. Within each of these areas, the models creating the most interest among visitors were reportedly the Ninja 250 (248cc), which continues to enjoy high popularity since it was marketed last year, the Z250 (248cc), the world's only 250cc-class street fighter type, and the retro-modern design ESTRELLA (249cc), respectively.
Among these models, the Ninja 250 was cited as being a particular attention-getter among younger show visitors. In Japan as well, 2013 sales in the 126~250cc motorcycle class posted a solid gain of 20.4% over the previous year (see reference chart at the end of this report). Figures for January and February of this year reveal that this progress is being sustained, up 15.7% over those same two months in 2013. Indeed, the passionate reactions of visitors to the Kawasaki booth vividly underscored the growing boom in sports motorcycles in Japan – the key focus on the 126~250cc class.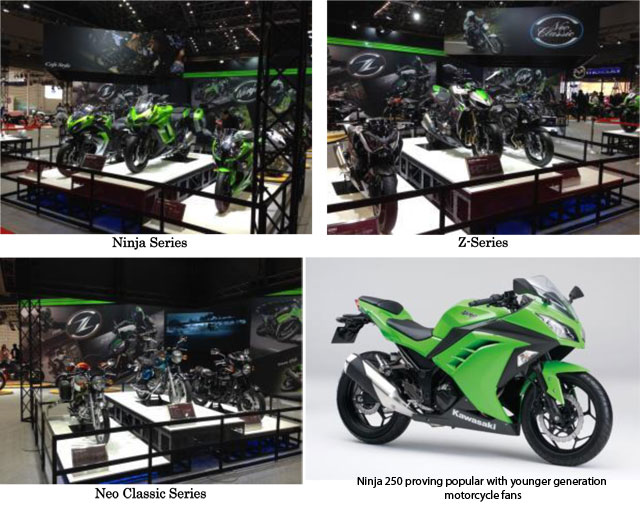 Suzuki
The theme of the Suzuki booth "Let's Create a Brand New Story" was the same concept adopted by the automaker at the Tokyo Motor Show held in the autumn of last year. Booth personnel explained the philosophy that with "new stories" typically kicked off by "new encounters," those new encounters must be packed with excitement and stimulation to succeed.
In that sense, perhaps the most dynamic feature of the Suzuki booth was the "Hayabusa" (1339cc). Designed with the keynote vision of creating the"Ultimate Sports Motorcycle" and tooled to travel at maximum speeds exceeding 300km/h, this model earned rave reviews in Europe, North America and other world markets from its original release back in 1999. Strangely enough, it was only introduced in Japan from this February. At long last, therefore, Suzuki has moved to also give motorcycle riders in Japan, so many of whom have long desired to get astride the highly touted Hayabusa, the opportunity for such new and charismatic encounters.
Along with the Hayabusa, also providing major magnets for booth visitors were the "Burgman 200" (199cc) likewise released on the market this February, as well as the"GSR250" (248cc)1, an outstanding cost-performance sports model.
In August of last year, Japan's Ministry of Economy, Trade and Industry announced the goal of raising the nation's domestic motorcycle sales volume to the 1-million-unit level by 2020. To achieve such a target, it will be vital to overcome the barrier of insufficient parking spaces for motorcycles and other pending issues. Yet another extremely crucial need consists of efforts to beef up the structure of Japan's motorcycle market, currently supported largely by owners in their 40s and 50s, with the supply of new models stimulating to current or potential riders in their teens and 20s. According to Suzuki booth staffers, some 46% of purchasers of the GSR250, which was marketed in July of 2012, are in fact younger people in the teens and 20s age group.

Numerous overseas motorcycle manufacturers also participated in the show, among them Ducati, Triumph, Harley-Davidson, BMW, KTM, MV Agusta and Piaggio. These companies showcased new models, race activities and other products and initiatives, with their booth areas bustling with energy throughout the 3-day event.
Test Rides
The grounds of the Big Sight show venue were also utilized for test-ride sessions, with visitors able to get hands-on experience with today's most popular motorcycles. Giving fans an opportunity to ride their most cherished models, long lines formed daily. Likewise provided was the "Ladies and Beginners Scooter Test-Ride Event" – a regular feature catering to the needs and interests of motorcycle novices and guests thinking of purchasing a scooter.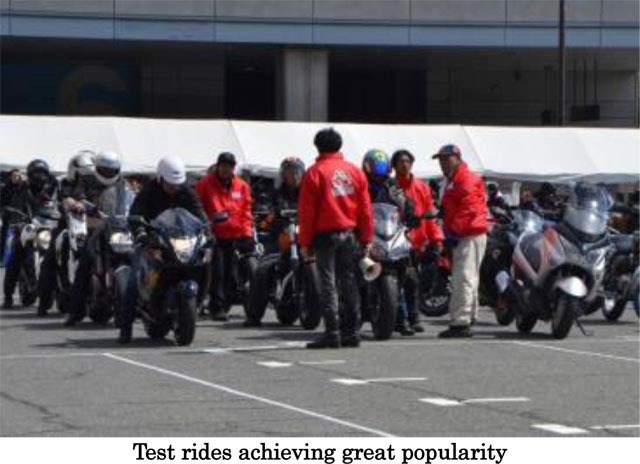 Good Manners Japan Riders Declaration
JAMA, in collaboration with the Japan Motorcycle Promotion & Safety Association, from this March launched the "Good Manners Japan Riders Declaration" drive. This is an initiative enabling individual riders to submit their own ideas and thoughts regarding safety and manners to an exclusive website. The idea is to encourage individual riders to become more conscious and compassionate while out on the road, while adopting attitudes based on greater empathy and identification with other motorcyclists. From a wider perspective, the expansion of such activities will be used to foster more positive ties between motorcycles and society in general.
Declaration forms for that purpose were distributed at both the Osaka and Tokyo motorcycle shows, with comments received back by 3,188 visitors in all. It is hoped that such initiatives, which allow individual riders to express feelings about proper road manners in their own words, will serve to expand the circle of riders devoted to raising their awareness of both safety and good manners. With that goal in mind, JAMA is also scheduling the development of various other events from here on as well.
Other events and exhibits at the show included the demonstration of model driving techniques by a spiffy team of lady motorcycle police from the Tokyo Metropolitan Police Department; a demonstration of sophisticated riding techniques by riders competing in the All Japan Trial Championship; a talk show featuring a number of Japan's most renowned motorcycle riders; a "customized gallery" displaying a fascinating range of customized motorcycles; motorcycles painted with the beautiful images of popular anime (cartoon) characters painted on their bodies and more.
The total gate over the three days of the 41st Tokyo Motorcycle Show was tracked at 113,830 persons, an increase of 3% over last year's show indicative of the smashing success.

As indicated in the following chart, in terms of year-on-year results, Japan's motorcycle market staged a solid comeback last year. What's more, domestic unit sales for January and February of the current year suggest that this rally is alive and well – namely, a 13.8% jump over the same two months in 2013. The individual manufacturers are determined to take advantage of this upward swing, mobilizing a new battery of sales promotion activities (test rides, business talk opportunities and other efforts) from the spring to both promote and jump onboard what looks to be a major market surge.