This year marked the first Tokyo Motor Show staged subsequent to the 60th anniversary of the gathering's launch in 1954. To help commemorate and draw even greater attention to this milestone occasion, a JAMA-sponsored parade was held on October 24.
Commemorative 60th Anniversary Parade
Featured in the high profile procession were 81 "famous vehicles" (58 cars and 23 motorcycles) spanning the 1950s to more contemporary times, driven by top executives of automakers such as JAMA Chairman Fumihiko Ike (President of Honda Motor), the Japan Automobile Importers Association (JAIA) and other participants.

Addressing the parade's opening ceremony, JAMA Chairman Ike noted: "To more fully reflect upon the past 60 years of progress, we have enlisted widespread support in assembling this outstanding collection of vehicles for today's parade. I must say that just gazing over this historical lineup has put me into a state of considerable excitement."
In concluding his remarks, Mr. Ike added: "In a very real sense, the core theme of this year's Motor Show may also be described as "Technology & Fantasy." Today, please allow yourselves to evoke deeply nostalgic images from the past, going on to immerse yourself in sensations of charming and reflective fantasy while savoring the spectacle of our parade."
The convoy commenced from Hibiya Park at the heart of downtown Tokyo, the site of the First Tokyo Motor Show. It covered a 7-kilometer route that included Ginza, one of the Japan's (and the world's) premiere shopping and entertainment districts. Among the motorcycles, respective leaders from Japan's Big 4 manufacturers personally piloted classic models such as the Honda CB SUPER FOUR, the Kawasaki W800, the Suzuki GSX-750 and the Yamaha BOLT-R. Large crowds formed along the way to catch glimpses of these legendary machines, which became the targets of impromptu photo sessions shot on smartphones and cameras alike.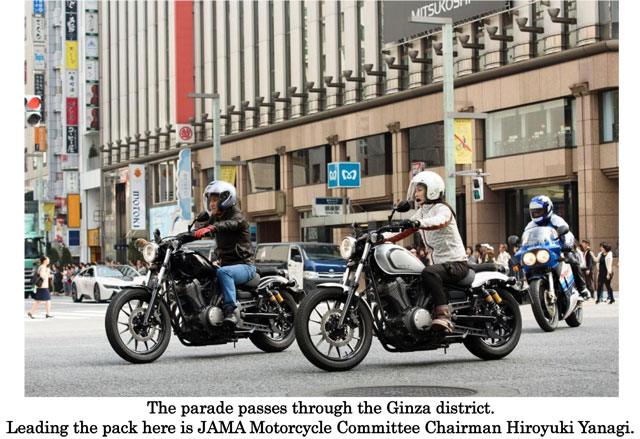 One particularly prestigious rider was Ms. Shizuka Arakawa, women's figure skating gold medalist at the 2006 Torino Winter Olympics and a lady also well known as a major motorcycle buff. Ms. Arakawa, currently active as a professional skater and sports commentator, was widely recognized and cheered on by parade viewers.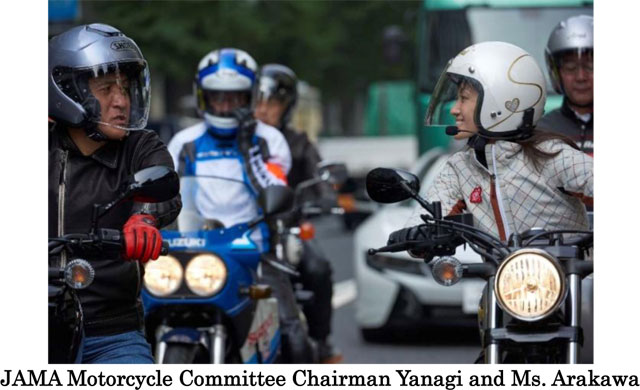 In addition to the parade, JAMA collaborated with numerous groups and organizations to present a number of other kickoff events prior to the opening of this year's Tokyo Motor Show. In this way, every possible effort was made to further liven up the Show – a marquee event staged only once every two years.
One such example was "Campus Visit Lectures 2015." This year's program concentrated 13 lectures, the lion's share of the annual total, from September 14 through October 22 in seeking to arouse greater interest about cars, motorcycles and the general manufacturing sector among the younger generation in the run-up to the Motor Show. It was jointly planned by JAMA and selected universities, with top executives from JAMA member companies traveling to school campuses to present informative talks.
This lecture series was well received when it was initially held in 2013, and earned high praise from students taking part this time as well. A key focus this year was placed on encouraging young people to experience the Tokyo Motor Show in person. Among the actual keynote talks, Suzuki Motor COO Toshiro Suzuki spoke at Yokohama National University on October 7; Honda Motor President (and JAMA Chairman) Fumihiko Ike at Sophia University in Tokyo on October 13; Kawasaki Heavy Industries Senior Vice President Kenji Tomida at Kyoto University on October 20; and Yamaha Motor President (and JAMA Motorcycle Committee Chairman) Hiroyuki Yanagi at Tohoku University in northeastern Japan on October 21. On all occasions, large numbers of students turned out to hear the lectures and presentations.


Mobilized for the Tokyo Motor Show theme was a "projection mapping system," in which entire outer walls of the meeting halls were transformed into screens to project jumbo-size images.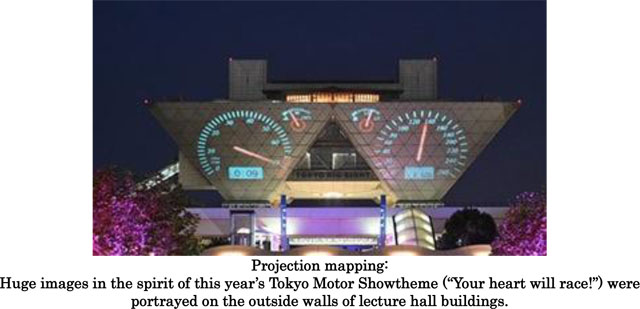 Motorcycle Symposium
During the Show's run, on November 3 (a national holiday) JAMA organized an on-site symposium entitled: "Let's Get Started on Fun Motorcycle Life!"The core targets of this event were persons who although wanting to ride motorcycles, are concerned about the dangers involved in operating such machines. The presentation explained how to ride motorcycles with maximum safety and peace of mind, helping such potential owner/riders overcome groundless fears.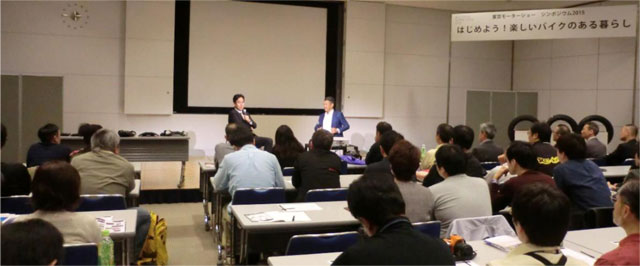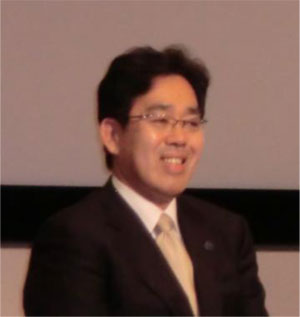 Professor Kawashima, whose field of specialty is neuroscience, was particularly outspoken in his conviction that motorcycle riding stimulates greater brain activity and helps prevents aging: "Operating a motorcycle, which involves the gathering, analysis and formation of judgments on a wide array of surrounding information, greatly harnesses the capacity of the frontal lobes of the brain."
Mr. Miyagi described how to select tires best suited for particular road surface temperatures, the importance of wearing chest protectors and other safety equipment to be prepared for the dangers of road accidents and similar essential subjects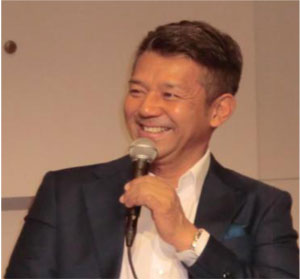 A total of 122 persons attended the symposium. According to the results of a questionnaire conducted after the event, 44 of the 98 participants who responded reported that they were not motorcycle owners, while 64 said they found the contents of the presentation and discussions to be "Very good" and another 20 "Good." These comments echo the Symposium's success in amply conveying the pleasures available from responsible motorcycling.
Motorcycle Test Drive Sessions
Motor Show visitors had the opportunity to test drive motorcycles from among 28 units of six different brands (Japanese and foreign makes alike) specially showcased for that purpose. Each rider was able to operate their motorbike of choice for three laps around a 360-meter course that included a slalom run, S-curves and other challenging features.
With show-comers eager to pilot models they felt most keenly attracted to, the waiting lines to ride were typically long. These test drives were originally scheduled for four consecutive days from November 5, but the final day (Sunday November 8) regrettably had to be cancelled due to heavy rainfall. But even so, an impressive total of 1,223 riders took models out on the course during the three days that the event was held.

SMART MOBILITY CITY 2015
Both motorcycles and cars continue to evolve into products characterized by greater levels of safety and eco-friendliness alike. But even so, a total of around 570,000 road accidents occurred in Japan last year, resulting in 4,113 fatalities. Trial computations, what's more, place the economic losses linked to these mishaps in the vicinity of ¥6.3 trillion.
Serious traffic jams also continue to plague Japanese cities. Time lost from such congestion is estimated to be about 3.31 billion man-hours per year, contributing to economic losses of ¥10 trillion. Another problem is that low-speed driving due to crowded roads results in higher levels of carbon dioxide emissions.
To enhance technologies empowering cars and motorcycles to excel as safer and more eco-friendly means of transportation, JAMA promotes fusion between increasingly innovative "information and communication technology" (ICT) and new environmental and energy know-how – one more phase of the quest for major improvements on those fronts. Besides supplying new enjoyment and diversity in people's lives, such efforts also zero in on the potential for bringing major changes to urban structure and social systems. Smart Mobility City 2015, held for the third consecutive Tokyo Motor Show on this occasion, is a sponsored theme event aimed at demonstrating specific examples of the JAMA thinking in this vein.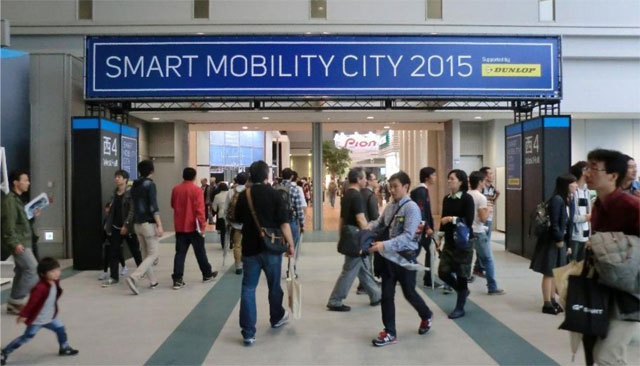 <Exhibitions>
Joining automakers, private sector companies active in ICT, the environment, energy, urban development, housing, cutting-edge materials and other fields, industry groups and government agencies also pitched in to exhibit the latest advances being made in products, technologies, systems and services. Their efforts collectively transformed the space at Tokyo Big Sight into a showroom literally steeped in visions of "cities for tomorrow."


<Test Rides>
This year's Motor Show also featured space both inside and outside the pavilion furnishing opportunities to actually experience ultra-compact and personal mobility, automatic driving and other advances. These initiatives deeply surprised and inspired visitors with the emerging new possibilities of mobility.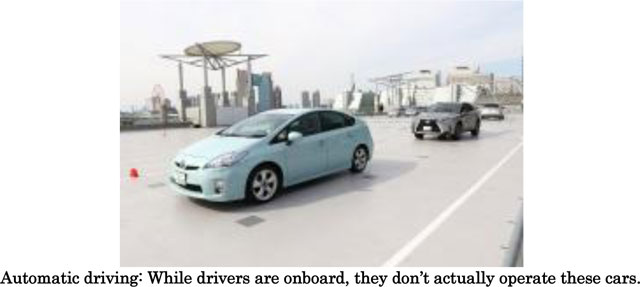 <Conferences>
During the Show's run, JAMA also invited exerts and other intellectuals from Japan and abroad to take part in a number of conferences held on the premises. On November 6, for example, JAMA Chairman Fumihiko Ike delivered an address on the theme of, "On the Road to Sustainable Mobility."
Within that presentation, Mr. Ike declared that the core mission for JAMA is to "Realize safe, comfortable and sustainable motorization." As the specific targets in that effort, he stressed "Zero Accidents, "Zero Congestion", "Unrestricted Mobility" and "Efficient Distribution."
He further noted that in working to reach those goals, it will be critical to introduce automatic driving advances structured to encompass and reflect the needs of motorcycles, bicycles, pedestrians and all other"road traffic stakeholders," while profiling the status quo and the expanding horizons of automatic driving technology.
According to Chairman Ike, JAMA is moving firmly forward with plans to achieve practical implementation of certain phases of automatic driving by 2020 –the year that Tokyo will host the Summer Olympic and Paralympic Games.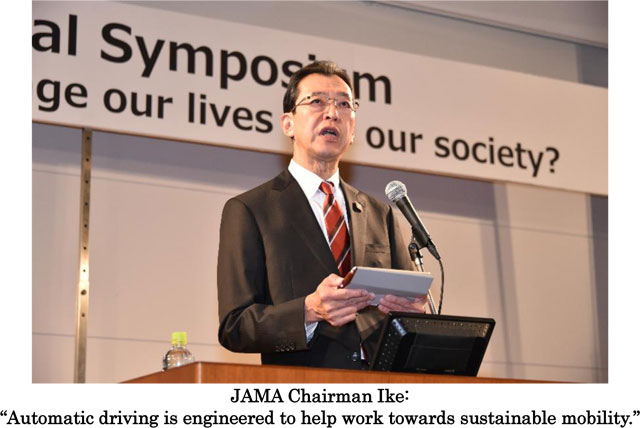 At this year's Tokyo Motor Show, keen efforts were channeled into clearly underscoring the environment, energy, safety, road congestion and other social themes now clearly assigned to motor vehicles. This proved to be an effective means of defining the proper role of automobiles in surmounting these challenges in the ultimate pursuit of "Mobility with greater freedom and latitude." There is no doubt that this year's Tokyo Motor Show was the first at which such clear emphasis has been placed on the issues surrounding today's vehicles and the directions demanded to be traveled into the future.
The 44th Tokyo Motor Show completed its highly successful 11-day run on November 8, with the total visitor gate throughout that period tracked at 812,500 persons. With rainy weather on the final day limiting turnout to some degree, this final count was unfortunately below that of previous Show in 2013 (which drew 902,800 persons). On a brighter note, the results of a questionnaire survey tracked guest satisfaction at 91.0% (up from 87.3% last time), with the desire to visit the next Tokyo Motor Show expressed by 89.2% of those coming this time (bettering the 86.7% in 2013).
It has been announced that the 45th Tokyo Motor Show will take place in the fall of 2017 at the same popular venue of Tokyo Big Sight.