In order to effectively prevent accidents and all road users can travel in comfort and safe, traffic police will strictly control and enhance law enforcement. In addition, the driver and passengers do not allow drinking alcohol and following traffic rules strictly to reach the destination safely.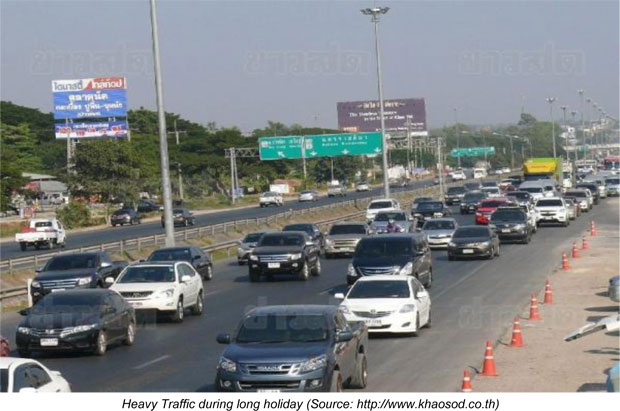 At the end of the campaign, the Road Safety Information Center reported the total number of road accidents over the seven days was 2,997, 177 or 5.58% less than during the seven days of the previous year, while 341 deaths, 25 or 7.08% less than last year, and 3,117 injuries, 228 or 6.79% less than last year. Most of accidents were caused by drunk driving (37.30%), followed by speeding (25.83%). Motorcycles are the vehicle type with the highest number of accidents (82.26%), followed by pickup trucks (8.27%).

This year's numbers showed a downward trend in accident numbers that has continued every year since 2010. From this result, the government said that although they did not specific targets for this year's New Year's safety campaign, the across-the-board declines were satisfactory.
The Thai Automotive Industry Association (TAIA), The Thai Motorcycle Enterprise Association (TMEA) and management representatives of Honda, Yamaha, Kawazaki and Suzuki participated in the launching ceremony. On this occasion TMEA donated the helmets to promote campaign of "100% Helmet Wearing" to Gen. Anupong Paochinda, Minister of Interior and Director of the information centre.