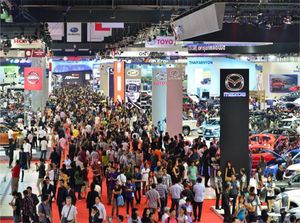 Activities:
There were many activities in the event to stimulate automotive industry including of award winning to the business owner such as "The Best Design Award 2015", "The Best Presentation Award 2015", "Concept Car Award 2015" and "Concept Bike Award 2015", these awards are aimed to motivate the automotive industry players to create the innovation design of booth and display to be more attractive and exciting to customers.
Moreover, interesting activities are Miss Motor Show, Car Club Activity and Car Decoration. Additionally, there is also highlight on Off-Road Racing which formerly known as "The Magnificent Ten 2015" the biggest off-road racing in Thailand were hold in the event as well.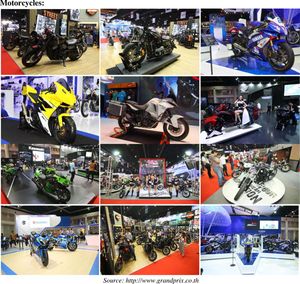 Thailand Automotive Industry:
Thailand Automotive Industry in 2015 has slightly slow-down caused from "First Car Policy" that effected to customers who still have to comply with the agreement by keeping the first car for 5 consecutive years, including of the political situation, the devalued of agricultural products, a severe situation of water shortage at the agriculture area, the consumer is not confident and the world economics which is effected to the export.
However, the 36th Bangkok International Motor Show was driven the automotive business and vibrant to customers, in this event, each brand were launched a new financial campaign or introduced new model to the market.
IPR & RS Symposiums:
At the same time of The Bangkok International Motor Show, The Thai Automotive Industry Association (TAIA) and the Federation of Asian Motorcycle Industries (FAMI) cooperate with Grand Prix International Co., Ltd (GPI) has organized the academic symposiums on March 30, 2015. The topics of symposium are the following:
"Intellectual Property Protection on Thai Automotive Industry" with the objective of create awareness and understanding on intellectual property protection and impact from intellectual property violation, especially automotive products which affect to safety of life and asset of drivers or riders and pedestrians.
Road Safety: Decade of Action for Road Safety "Adapt to be Alive" with the objective of create awareness and promote road safety campaign, and reflect impact of danger from road accident to drivers and riders, other road users, and pedestrians.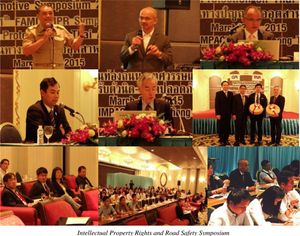 TAIA has invited 2 Thai guest speakers to lecture Intellectual Property Rights in Thailand namely Mr. Supat Tangtrongchit, Acting Director of Intellectual Property Promotion and Development Division, Department of Intellectual Property, Ministry of Commerce and Mr. Manoon Changchumni, Director of The Intellectual Property Association of Thailand (IPAT).
The symposium also welcomes Mr. Mikiya Adachi from JAMA to lecture the Intellectual Property Rights in Japan as an honorable guest speaker.
For the situation of the Road Safety, The symposium has invited 2 Thai guest speakers to lecture the Road Safety in Thailand namely Mr. Chestha Mosikarat, Director Disaster Accident and Road Traffic Safety Integrated Collaboration Bureau, Department of Disaster Prevention and Mitigation, Ministry of Interior and Dr. Thanapong Jinwong, Manager of the Road Safety Group Thailand.
TAIA also invited Mr. Masayuki Nomura from JAMA to be lecture about the Road Safety in Japan and share the Road Safety succession cases in Japan.
TAIA is honored to have FAMI VIP guests. Dr. Ing. Gunadi Sindhuwinata, President of FAMI, Ms. Stone Shih, Chairman of Intellectual Property Rights Task Force, Mr. Agustinus Indraputra, Chairman of Road Safety Task Force and FAMI members from each association has participated the Symposiums and more than 168 persons were participated.