On August 19, which is Motorcycle Day, the Japan Automobile Manufacturers Association (JAMA) and Japan Motorcycle Promotion & Safety Association (JMPSA) held an event in Futako Tamagawa Rise, Setagaya, Tokyo, entitled "August 19 Is Motorcycle Day—HAVE A BIKE DAY" to raise awareness about motorcycle road safety.
Futako Tamagawa Rise is a fashionable town lined with shopping centers, restaurants and offices. On the day of the event, which was a Monday, the area was filled with people enjoying shopping and meals out, with many guests stopping by at the Galleria main hall, where the event was held. New and popular motorcycles bythe four brands were displayed at the venue. This lively event focused on motorcycles, with some surprise guests appearing on the stage.
The most important point forenjoying motorcycles is safe riding
At theopening ceremony held from 11:30 a.m., Yoshihiro Hidaka, chairman of the JAMA Motorcycle Committee, gave an address, stating, "Motorcycle Day was established with the purpose of raising awareness about safe motorcycle riding so that more people can enjoy motorcycles. While Europe has long had a deeply-rooted culture of considering safe riding to be cool, my recent experience riding together with young riders has made me feel that motorcycle riding manners in Japan have gradually improved. Of course, we must never let our guard down, so Iwould like all those present here today to reaffirm what they know about road safety. As today's event can also be enjoyed by guests who do not regularly ride a motorcycle, I hope that you will all enjoy yourselves today."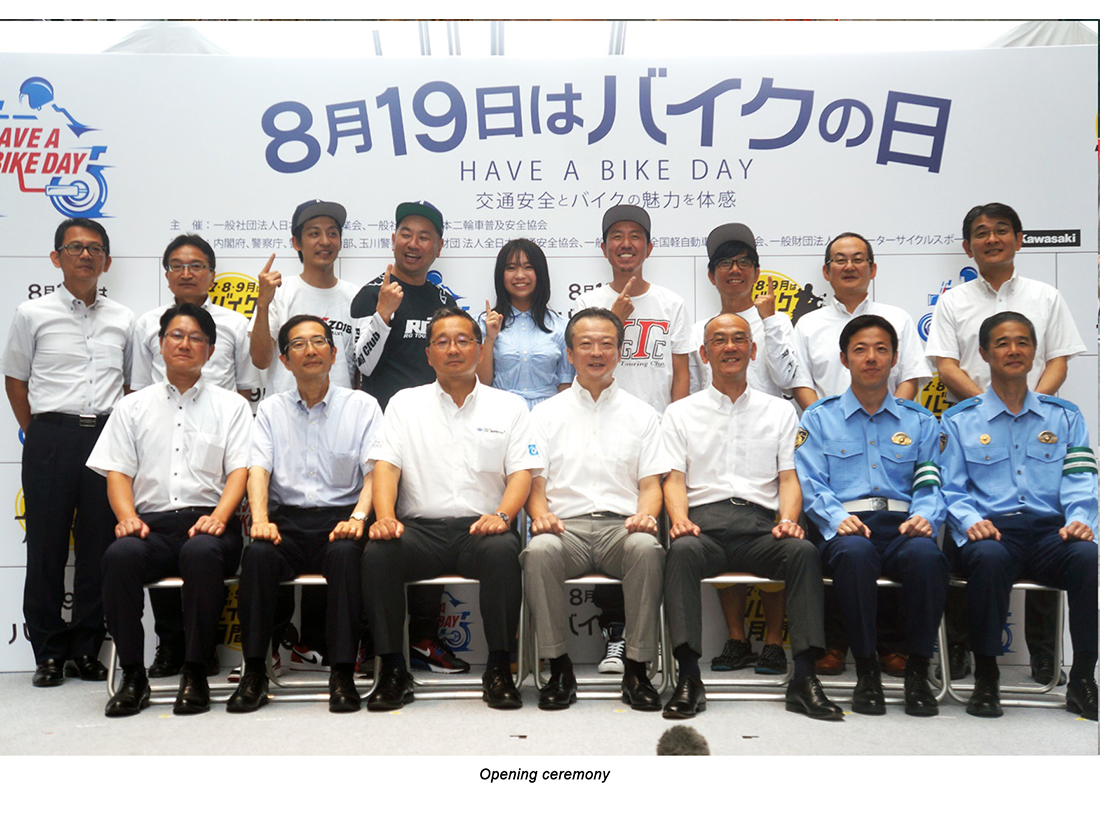 Promoting the attraction of motorcycles and road safety even to people who do not normally ride motorcycles!
First, the stage was lit up by a motorcycle discussion by guests including TV personalities. Ms. Ohara, a TV personality said, "I have never ridden on a motorcycle. Today, I hope that you will all teach me about the fun of motorcycles!". In response, a TV comedian who loves motorcycle replied,"The most fun thing about motorcycles is touring while feeling the wind against your body. Actually, I enjoyed a motorcycle ride this morning before coming here. There is also a large range of fashionable motorcycle apparel now available, which I also enjoy very much," showing off the motorcycle gear that he was wearing.
At the road safety stage, the Tokyo Metropolitan Police Department's elite "Queen Stars" encouraged all those present to engage in safe motorcycle riding together with their mascot, Pipo-kun. Next, Ms. Ohara assisted applicants from the general event guests to firmly fit the chinstrap of their helmet, passionately asking that riders always fitted their helmets properly.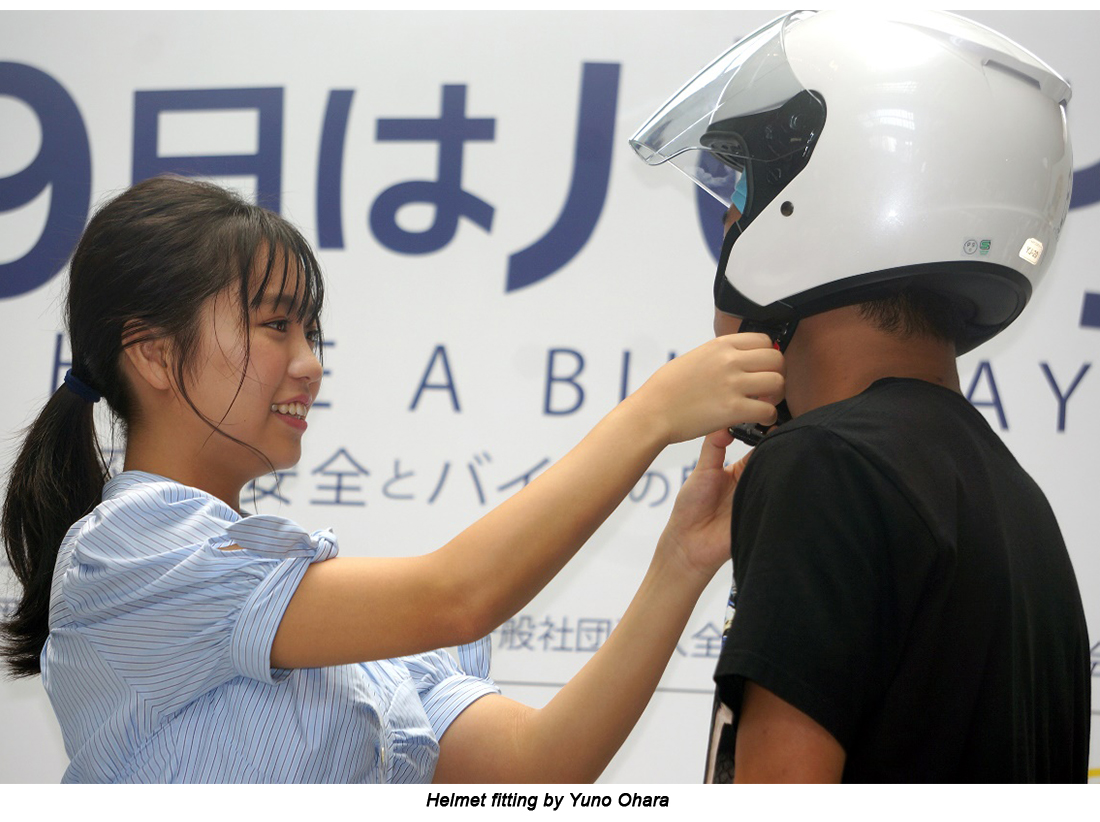 At the same time, at another stage,Motorcycle Enthusiast TV comediansengaged in a lively "Futako Endurance Bike Talk," which was widely broadcast through YouTube.Tokyo governor Yuriko Koike made a surprise appearance on the main stage. Holding a helmet under her arm, she called for motorcycle safety, saying, "The important thing when riding a motorcycle is protecting your head."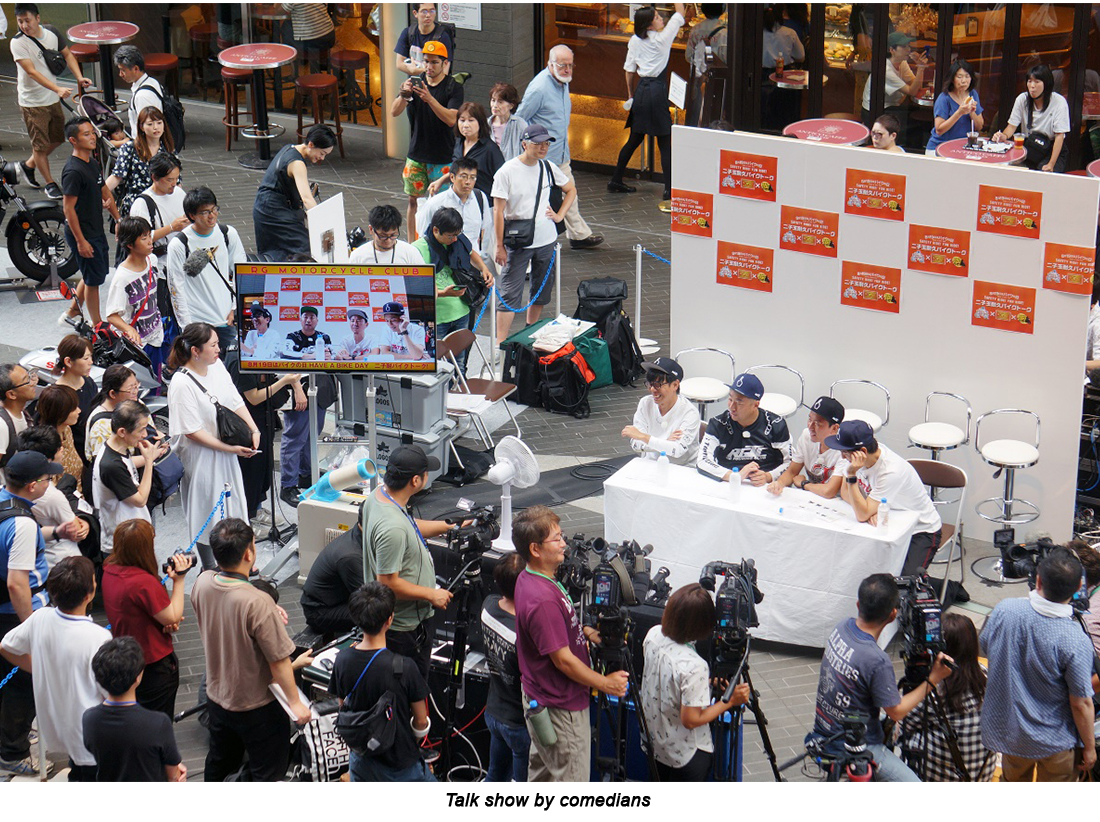 Regarding parking for motorcycles, she said, "Not being able to easily park your motorcycle steals one of the attractions unique to motorcycles. In Tokyo, we are working to provide infrastructure for motorcycle parking lots and will make every effort going forward to ensure that the number of such parking lots increases."