The Motorcycle Development Program Participants Association, Inc. (MDPPA), an association of the country's four major motorcycle manufacturers: Honda Philippines Inc., Kawasaki Motors (Phils) Corp, Suzuki Philippines Inc. and Yamaha Motor Philippines Inc., held its first road safety summit at the TESDA-KorPhil Training Center in Davao City last October 19, 2019.
The Summit, which MDPPA hopes to eventually expand into an annual nationwide event, has the theme "Reinforcing Philippine Initiatives for Road Safety" and gathered together 500 motorcycle riders, mostly from the Davao region, to discuss national road safety plans. This inaugural Summit is also in response to the growing number of motorcycle-related road crashes incidents nationwide and the rising call from motorists from regions outside Metro Manila for a summit tackling road safety.
MDPPA joined forces with relevant government and non-government organizations such as the Office of the City Mayor, Department of Transportation (DOTr), Land Transportation Office (LTO), Philippine National Police – Highway Patrol Group (PNP-HPG), Traffic Management Office of Davao City, World Health Organization (WHO), Philippine Red Cross (PRC), Motorcycle Dealers Association of the Philippines (MDAP) and riders federations namely: Federation of Motorcycle Clubs in Mindanao (FMCM) and Mindanao Motorcycle Riders Alliance (MMRA). These organizations also signed a Road Safety Commitment during the Summit.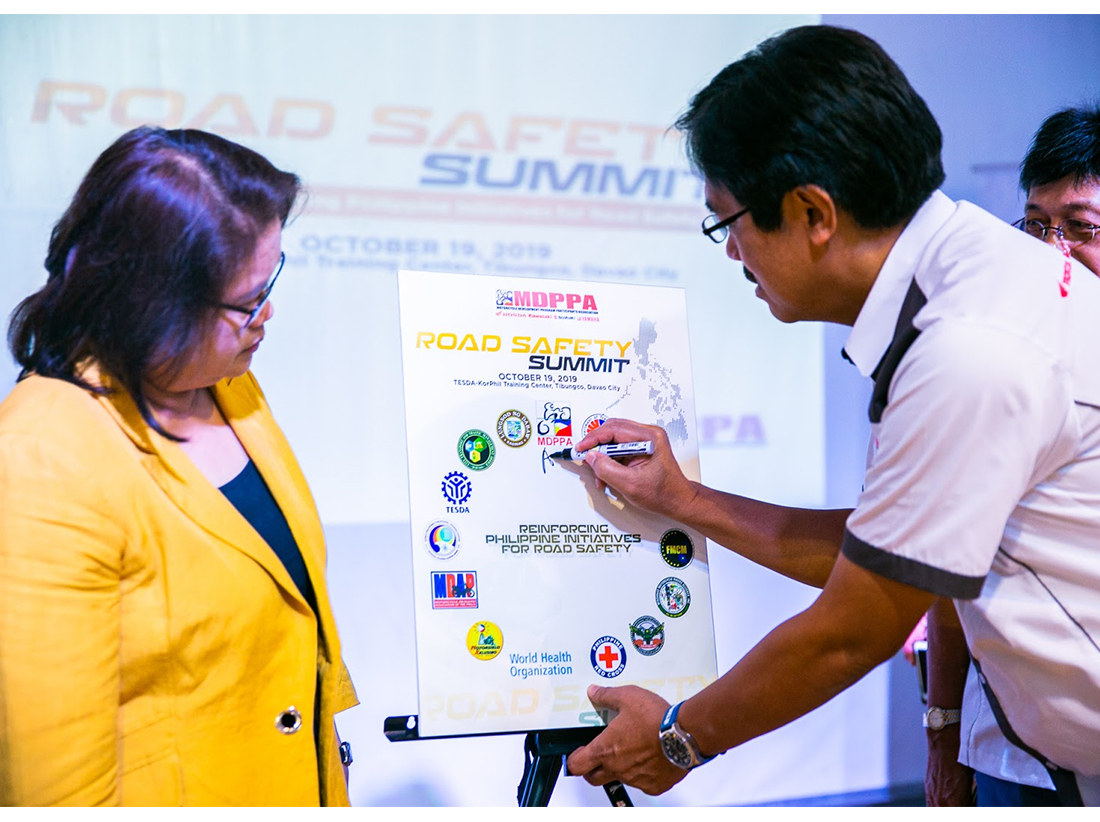 MDPPA President Alfredo Lejano noted that on top of giving motorcycle riders a refresher on road safety tips, the Summit will enable relevant government organizations to discuss issues with riders. "This is an opportunity for these government units such as the DoTr and LTO to communicate their national road safety plans and address the rise of motorcycle-related road incidents in recent years," added Lejano.
In Metro Manila alone, 14,856 motorcycle crash-related incidents have been recorded by the Metro Manila Accident Reporting and Analysis System (MMARAS) of the Metro Manila Development Authority (MMDA) for January to June 2019. This number is more than half the total number of motorcycle-related road incidents for the whole of 2018 and indicative of the upward trend in the number of such road incidents.
"This marks the first ever Road Safety Summit that MDPPA is spearheading and organizing. The road safety symposia we held or participated in the past years were organized by the Federation of Asian Motorcycle Industries (FAMI). With this Summit, we hope to have an annual event mounted in different regions across the country so we can reach more motorcycle riders and even non-riders," said Herminio Lomibao, Jr., MDPPA chairman for road safety committee.
With road safety having been MDPPA's forefront advocacy since its founding, this Summit is just one of several road safety initiatives the organization conducts each year. According to Lejano, there have been several seminars for riders in Luzon and trainings for both riders and high school students in Visayas so far this year.