Motorcycle riders/enthusiasts from the northern provinces of the country together with other road safety advocates and concerned government agencies converged at the Philippine Tourism Authority Resort in San Fabian, Pangasinan last May 14,2016 for the MDPPA Road Safety Festival. The goal of the event was to gather stakeholders for a day of road safety awareness through topic discussions, sharing of compelling messages and best practices. MDPPA also endeavored to strengthen its collaboration with the Riders' Federations and Clubs to intensify their engagement on undertakings with the government on industry concerns, and voluntary works to reduce victims on the road.
Assistant Secretary of the Department of Transportation Dante Lantin, a staunch supporter of road safety, expressed a powerful reminder on the culture on road safety especially on the proper decorum while on the road. "Riders should be the number one agents of road safety to counter the negative impressions about the use of motorcycle", he added. He did not miss to lighten the serious mood of his audience through his customary good punch lines.
Police Senior Superintendent Rollie M. Saltat, Philippine National Police Regional Director, and Land Transportation Office Traffic Division's Mr. Joey Yap talked on traffic laws, and the rules and regulations on driving and operating a motorcycle. Both reminded the riders that their lives, as well as the lives of other road users, are literally in their hands. "Always be vigilant on the road and obey all the rules. Drive safely and enjoy life", they emphasized.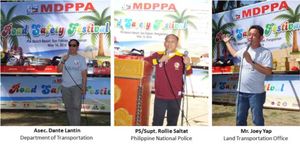 The occasion also included entertainments as well as games that demonstrated road safety, and raffle draws of various items. Everyone's commitment to exercise road safety was echoed through the recitation of the Road Safety Pledge that capped the event.