The APEC Automotive Dialogue (AD) serves as a forum for APEC member economy officials and senior industry representatives to work together to map-out strategies for increasing the integration and development of the automotive sector within the region; and aims to engage participants in cooperative efforts to foster the growth and development of the regional auto industry and to provide actionable recommendations to APEC Trade Ministers 1. Consistent with one of APEC's four priorities "Mainstreaming SMEs in Regional and Global Markets", the Philippines adopted the theme "Integrating SMEs into the Automotive Global Value Chains" for the Automotive Dialogues.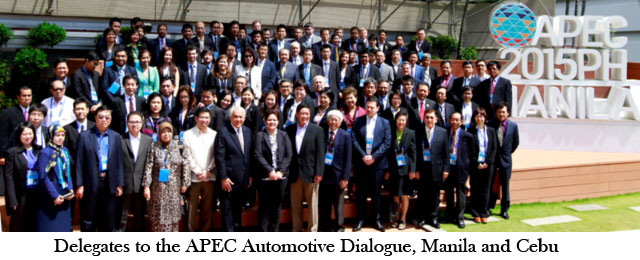 The Dialogues discussed, noted and agreed on organizational outcomes and development directions to be further expanded that include the Electric Vehicle Roadmap, GSAS Project. Compendium on Motor Vehicle-related Taxation, Automotive Standards and Peer Reviews that include motor vehicle market/trade situations, free trade agreements and new government policies.
Workshops were also conducted during the two Meetings highlighting SMEs' key role in the automotive global value chains (GVC), understanding non-tariff measures, and initiating discussions on SME integration experiences and recommendations that worked for the AD member-economies. The Workshop is part of the Work Plan of the APEC GSAS Project (GVC-SME Integration for the Automotive Sector) proposed by the Philippines and Malaysia during the 22nd AD. The GSAS Project aims to map out the current automotive industry in Asia Pacific, and enhance participation of APEC SMEs in the automotive global value chains by identifying best practices and trade facilitation measures. Key recommendations of the Workshops include SMEs' consideration of diversifying into other related industries to expand its product and market portfolio and to utilize these industries as platform for technological upgrading, active pursuance of harmonization of standards, procedures and regulations to further facilitate international trade. and for APEC economies to continue utilizing APEC Auto Dialogue as venue for cooperation, exchange of ideas and initiatives to support SME auto parts makers' integration into GVCs.