Japan is home to a large number of museums. According to the Ministry of Education, Culture, Sports, Science and Technology, as of October 2015 there are 895 registered museums, 361 museum-equivalent facilities, and 4,434 museum-like facilities in Japan, as defined by the Museum Act. These include history museums, science museums, and general museums, as well as art museums, zoos, and aquariums. Indeed, if corporate museums of all sizes are also included, private research indicates that there are approximately 9,000 museums in total in Japan*.
We are now living in an age in which we can find all manner of information via our smartphones; however, the attraction of museums lies in being able to see actual exhibits at first-hand and making unexpected discoveries. It is through such visceral experiences that we can gain true knowledge and satisfaction.
*This is the number of museums registered in the database of Tansei Institute Co., Ltd., an institute that carries out museum-related research and investigations.
Recommended: the Corporate Museums of Japan's Four Motorcycle Manufacturers
Japan's four motorcycle manufacturers each have their own corporate museum: Kawasaki Good Times World in Kobe City; Suzuki Plaza in Hamamatsu City; Honda Collection Hall in Motegi-machi, Tochigi Prefecture; and Yamaha Communication Plaza in Iwata City, Shizuoka Prefecture. All four museums trace the histories of their respective companies from establishment to the present day, expound their philosophies about manufacturing, and introduce key products from their pasts; however, since the museums are operated according to different concepts, the unique characteristics of the companies shine through.
In recent years, these corporate museums have become popular "pilgrimage spots" for motorcycle lovers. However, the facilities are also used to educate junior high school students on school trips, and they are attracting increasing numbers of overseas visitors as local tourist destinations.
[Kawasaki Good Times World]
| | |
| --- | --- |
| Address | : 2-2, Hatoba-cho, Chuo-ku, Kobe, Hyogo (Kobe Maritime Museum) |
| Museum hours | : 10:00 to 17:00 (closed Mondays) |
| Admission fees | : 600 yen for adults; 250 yen for elementary and junior high school students |
| For further information | : contact Public Relations Department, Planning Division, Motorcycle & Engine Company, Kawasaki Heavy Industries, Ltd. |
| Tel | : +81-(0)3-3435-2523 |
| Online Inquiry | |
Seeing the Wider Picture of a Heavy Industries Manufacturer
Meriken Park, a tourist destination in Kobe City, is home to the Kobe Maritime Museum which houses the Kawasaki Heavy Industry Group's corporate museum, Kawasaki Good Times World. The museum was opened in May 2006, with the aim of contributing to the revitalization of the Port of Kobe. A single ticket provides admission to both the Kobe Maritime Museum and Kawasaki Good Times World, and this latter facility is visited by approximately 200,000 people per year.
Upon entering Kawasaki Good Times World, visitors are met with a calmly lit space. At thefrontend of the corridor stands a slab of stone on which is hewn a Chinese character: the "kawa" of "Kawasaki." Starting here, a display outlines the company's history from its establishment in 1878, introducing businesses and products from every era. The displays tell the story of a company that, as Japan entered the modern period, developed from a shipbuilding business into a comprehensive heavy industries business.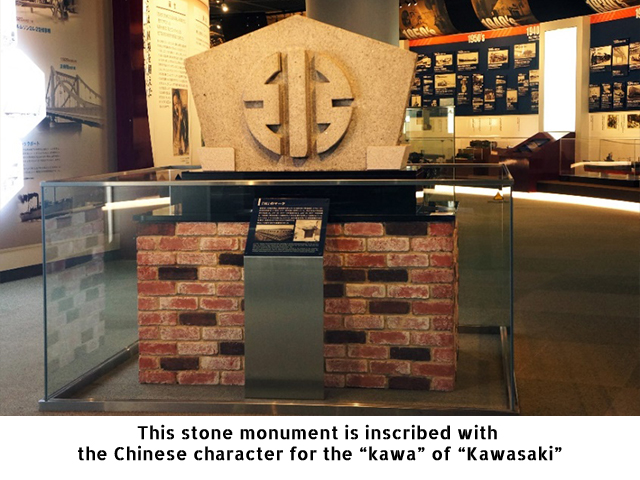 The display makes yourealize that Kawasaki is not only a motorcycle manufacturer but also one of Japan's leading heavy industry manufacturers. It builds massive energy plants, ships, railway carriages, and airplanes, and develops and supplies hydraulic equipment and industrial robots. The Akashi Kaikyo Bridge, the Channel Tunnel, and the Tokyo BayAqua-Line Expressway were all made possible by Kawasaki—you may be astonished at the scale of the company's activities.
Palpable Pride in Motorcycle Manufacturing
In the Motorcycle Gallery area, you will first encounter a Ninja H2R with its cowl removed and insides exposed. Next to it is a complete Ninja H2 with the emblem of the same "kawa" Chinese character crowning the front of the nose. This is Kawasaki's flagship sports bike, and it emitted a special aura.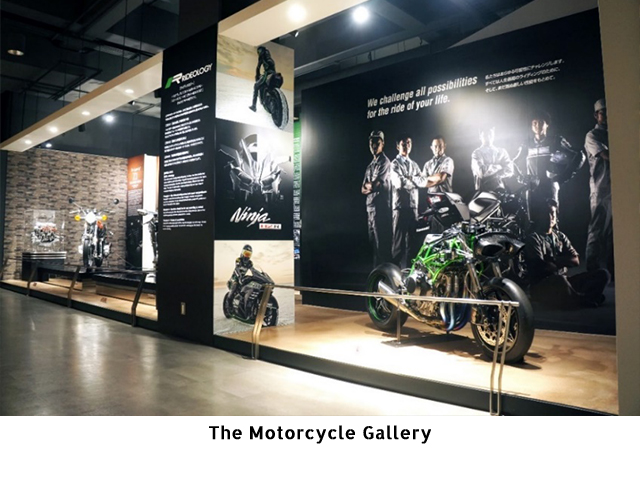 But that is only to be expected: the supercharger installedin the motorcycle's engine incorporates turbine technologies used by Kawasaki's Energy System & Plant Engineering Company, while the company's Aerospace-Systems Company technologies helped optimize its aerodynamic performance. In other words, this motorcycle is a distillation of the strengths of the entire Kawasaki Heavy Industries Group. The development team is shown on a photograph printed on the wall of the booth, along with the words: "Our goal is to realize all manner of possibilities." Kawasaki's pride in its motorcycle manufacturing was palpable.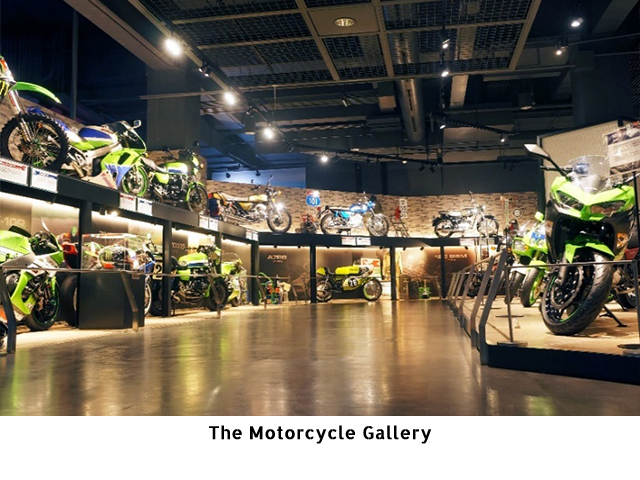 The Motorcycle Gallery also houses a special exhibition entitled, "Kawasaki flagships that have lit up the ages." This display of 30 bikes featured generations of the company's flagship motorcycles, famous models from the past, and actual race machines.
In one corner of the gallery, there are also motorcycles that visitors can sit on. Next to these motorcycles was the RidEX riding simulator, which enables visitors to experience sporty riding in a race track.This appears to be more popular among younger generations.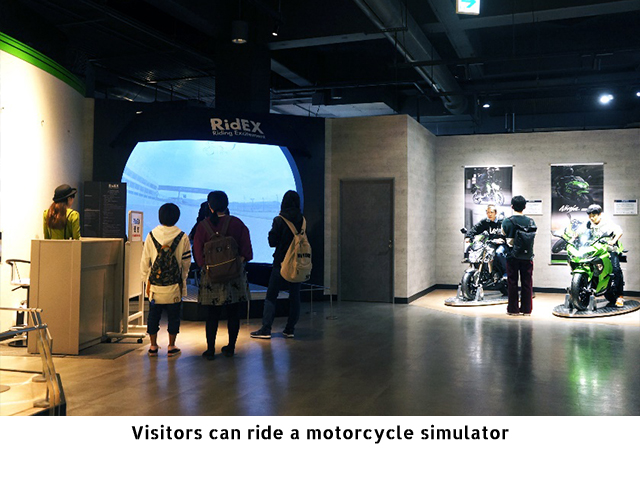 Enjoyment and Education for Both Adults and Children
In addition to motorcycle products, Kawasaki Good Times World also houses displays of actual Shinkansen and helicopters, railroad dioramas and flight simulators—there are a variety of exhibits that appeal to adults and children alike.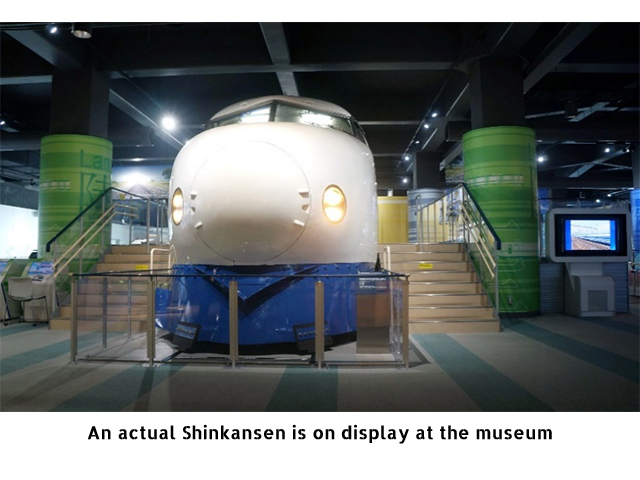 Tetsuji Maeda, the museum manager, comments: "We are visited by large numbers of families and elementary and junior high school kids on school trips; we would like them to look at, touch, enjoy playing with, and learn about the Kawasaki Heavy Industries Group's products, and experience at first-hand the splendor of technologies and the importance of monozukuri (manufacturing)."
Between February 5 and 17, 2019, Kawasaki Good Times World hosted a special exhibition entitled RE?WIND in the main hall of the Kobe Maritime Museum. The exhibition traces the evolution of Kawasaki motorcycles from the past to the present, and is expected to draw large numbers of fans.
[Suziku Plaza]
| | |
| --- | --- |
| Address | : 1301, Zora-cho, Minami-ku, Hamamatsu City, Shizuoka Prefecture |
| Museum hours | : 9:00 to 16:30 (closed on Mondays, and on other days) |
| For further information | : contact Domestic Corporate Communications group, Corporate Communications Dept., Suzuki Motor Corporation |
| | |
Increasing Awareness of Suzuki Motor Corporation
Suzuki Plaza, the corporate museum of Suzuki Motor Corporation, was opened to the public in April 2009. Located next to the company's Head Office in Hamamatsu City, visitors can make reservations online and see the museum for free. According to Kenichi Oshima, manager of Suzuki's Domestic PR Department, Corporate Communications Dept.: "By introducing Suzuki's history and monozukuri, we hope to enable visitors to gain an understanding of what sort of company Suzuki is, and experience the many facets of our corporation."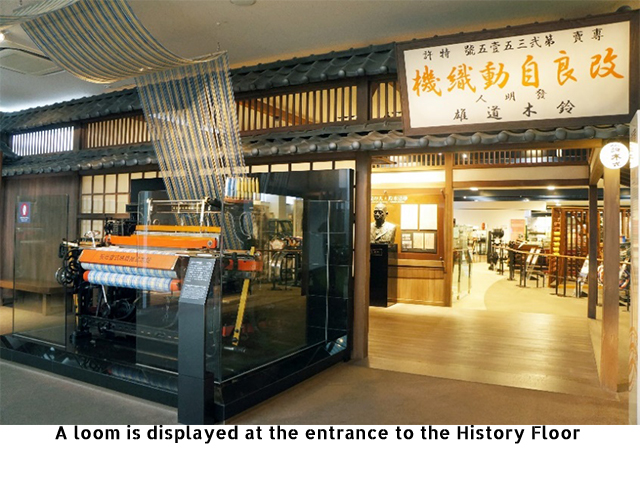 The museum occupies a three-story building, and visitors tour the building from top to bottom—that is, from the third floor to the first floor. The third floor houses numerous products that have decorated Suzuki's past; the second floor illustrates the automobile manufacturing process from development to production, and also introduces the industries of the local Enshu region and the company's overseas bases; the first floor displays Suzuki's latest motorcycles and cars, as well as the company's racing machines.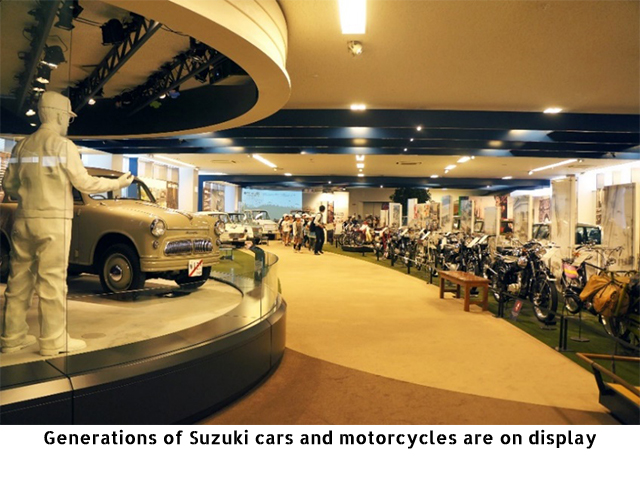 Suzuki Plaza places a significant focus on history, and the displays on the third floor are arranged to show the passage of time, enabling visitors to understand why there was demand for certain products in certain eras. Suzuki motorcycles and automobiles from each period are displayed, providing visitors with the opportunity to trace the changes in the company's products. However, displayed at the entrance to the third floor is neither a motorcycle nor an automobile: instead, there is a Suzuki loom, the bedrock on which the company was established in 1909. The company history begins by introducing its first president, Michio Suzuki.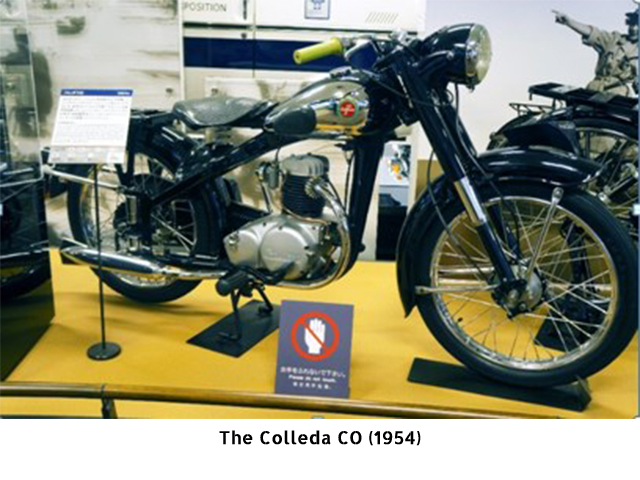 Oshima explaines: "The products on display epitomize their epochs. However, we
have not simply chosen models that were commercially successful; products equipped with unique technologies are exhibited as important industrial materials. To take one example, it is extremely rare to see a motorcycle fitted with a rotary engine."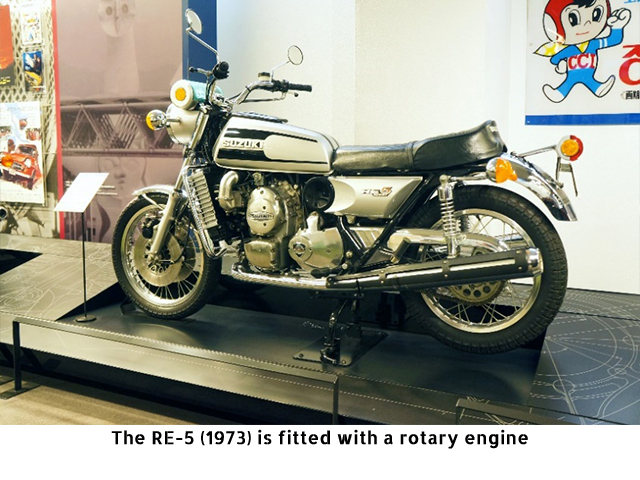 Prioritizing Links with the Local Community
On the second floor of Suzuki Plaza, visitors are presented with an overview of the automobile manufacturing process. With its model of a robotic assembly line, the floor is particularly popular with elementary and junior high school children on field trips and so on.
On a given day at the museum, approximately 100 fourth-graders from a local elementary school visited on a school trip. Divided into various groups, they could be seen frequently scribbling down notes after observing the exhibits. When asked what they thought of the museum, one boy replied: "The loom we saw at the beginning was amazing. I want to find out how people were able to make such a machine so long ago." A girl said: "I'm glad I was able to sit on some of the motorcycles on the first floor. It's the first time I have ever touched a motorcycle." Some 15,000 children visit the museum every year.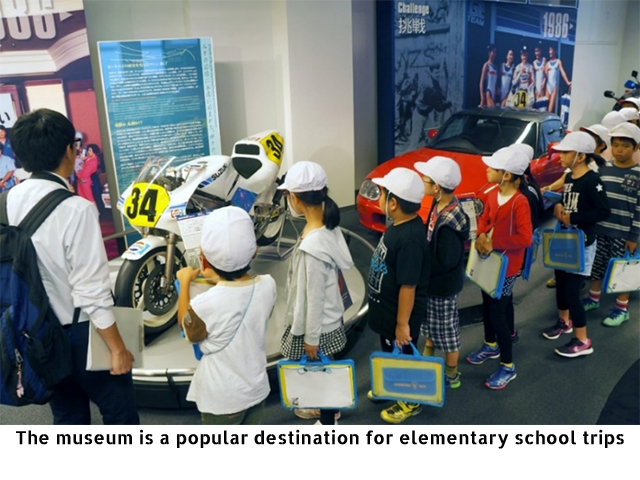 Oshima notes: "Elementary school children take lessons in which they learn about important historical persons from their local regions. Suzuki Plaza has an area dedicated to industries from the Enshu region, and here we not only have displays about Michio Suzuki, but also Torakusu Yamaha of Yamaha instruments, Toyota's Sakichi Toyoda, Honda's Soichiro Honda, Kawai's Koichi Kawai, and Kenjiro Takayanagi, who is known as 'the father of Japanese television.' We hope tobenefit children's education." Above all, Suzuki Plaza is operated in a way that prioritizes links with the local community.

[Honda Collection Hall]
| | |
| --- | --- |
| Address | : 120-1, Hiyama, Motegi-machi, Haga-gun, Tochigi (located inside Twin Ring Motegi) |
| Museum hours | : for information on opening times and dates, please see the Twin Ring website: www.twinring.jp/english/ |
| For further information | : contact the PR and Special Events Division, Twin Ring Motegi |
Returning to Honda's Roots: Marking the 20th Anniversary of the Honda Collection Hall
The Honda Collection Hall is a motorcycle and automobile museum located inside Twin Ring Motegi, the motorsports facility owned by Honda Motor Co., Ltd. Visitors to Twin Ring Motegi can enter the museum for free, and the museum receives more than 180,000 visitors per year. There are approximately 300 exhibits in total, including 209 motorcycles, 65 automobiles, general purpose engines, and other products. The Honda Collection Hall houses one of the largest and highest-quality collections of motorcycles and automobiles in the world.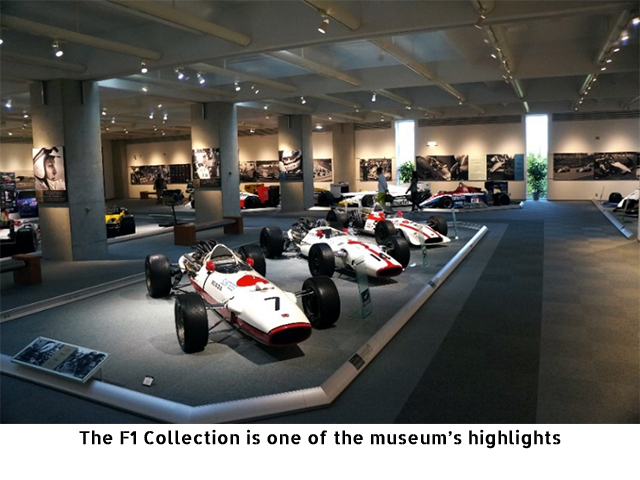 The Honda Collection Hall opened in 1998, the year after Twin Ring Motegi was established. March 2018 marked the 20th anniversary of the museum's opening, and the first-floor exhibition area was significantly updated. A new area was designed, entitled "Honda: the Locus of Dreams and Challenges," which follows the footsteps and ideas of the company's founders, Soichiro Honda and Takeo Fujisawa. It exhibits a selection of motorcycles, automobiles, and race machines from a period when Honda dreamed of becoming the best in the world.
Tetsuya Iida, deputy manager of the Honda Collection Hall, explaines: "Soichiro Honda disliked drawing attention to his achievements, and is supposed to have said of the museum: 'Make sure it is not excessively boastful.' However, since there are huge numbers of Soichiro Honda fans, and since this year marks the 70th anniversary of Honda's founding, we are illustrating the dreams of our founders and their ideas of Honda regarding monozukuri, centered on the idea of 'Returning to Our Roots.'"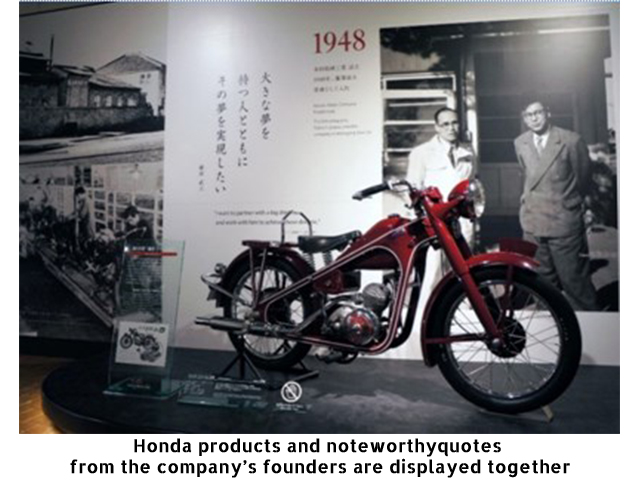 Let Us Create Products that Serve People: the Production Car and Motorcycle Collection
The second floor of the Honda Collection Hall is divided into motorcycle and automobile areas, and displays famous production vehicles from the past. Approximately 100 motorcycles are exhibited here, based on the theme of "Let us create products that serve people." There are three centerpieces in the motorcycle area: the auxiliary bicycle engine (1945), Honda's first product; the Super Cub C100 (1960), the first-generation of the Super Cub series, 100 million units of which have been produced; and the Dream CB750 FOUR (1969), which changed the world of large-displacement 750cc motorcycles.Polished to perfection, visitors will surely admire the splendor of their designs, which still appear beautiful today.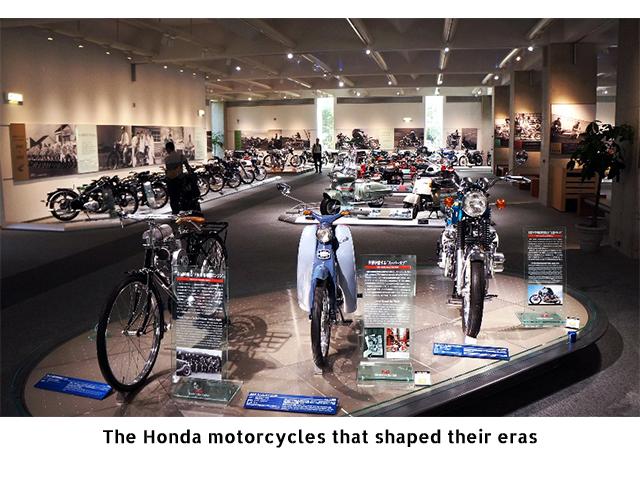 Also on display are CB series (1960s) motorcycles of varying displacements, numerous mopeds and leisure motorcycles that took the world by storm in the 1970s and 1980s, and the NR (1992) luxury sports model that drew widespread attention due to its elliptical pistons. Apparently, many fans spend an entire day carefully observing each of the exhibit.
A Temple to thr Glory of Motorsports
The third floor of the Honda Collection Hall features both two and four-wheeled race machines that competed in the FIM Road Racing World Championships and the FIA F1 World Championships. There are approximately 100 motorcycles and 30 automobiles on display, and it is very much the highlight of the museum. Iida notes with pride: "This is undoubtedly the only place in the world that displays such a wide range of Honda's MotoGP and F1 machines. For motorsports fans, this is an unmissable collection."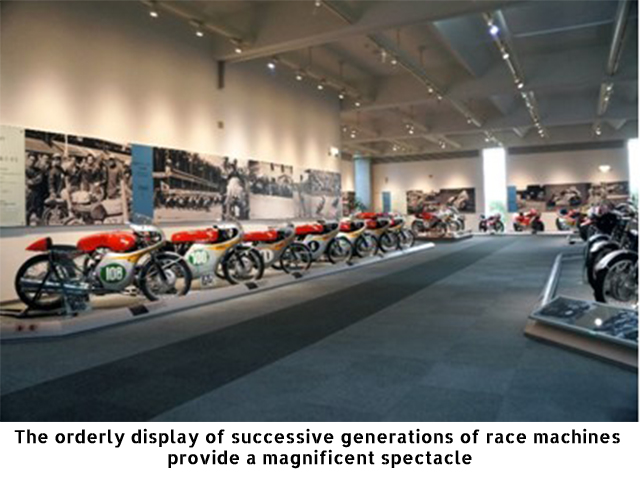 Honda started its race activities in 1949, the year after its establishment. In its early years, it participated in the Asama Kogen Race (1955) in Japan and the Isle of Man TT Race (1959) in the U.K., seeking to be the fastest in both Japan and the world. The actual machines used in those races are lined up in a manner that eloquently illustrates that racing is part of the Honda DNA. From its WGPmachines to its MotoGP machines, the unbroken development of its motorcycles clearly demonstrates the evolution of Honda's race machines. Indeed, pondering the dramatic events that each of the machines were involved in, one may fell as though they could hear from afar the roar of the crowds and scream of the exhausts as the machines raced about the circuits.
The Honda Collection Hall overflows with the romance of people who pursued their dreams, and provides excitement and satisfaction to its visitors in equal measure.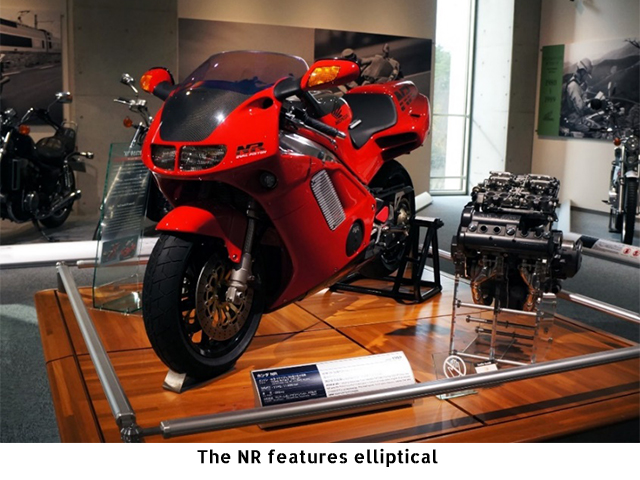 [Yamaha Communication Plaza]
| | |
| --- | --- |
| Address | : 2500, Shingai, Iwata-shi, Shizuoka |
| Museum hours | : weekdays from 9:00 to 17:00; every second and fourth Saturday and Sunday from 10:00 to 17:00 |
| For further information | : contact the Public RelationsGroup, Corporate Communication Department, Yamaha Motor Co., Ltd. |
The Embodiment of "A Company that Generates Excitement"
Yamaha Communication Plaza is a corporate museum opened by Yamaha Motor Co., Ltd., in July 1998. The museum relates in depth the story of the company's establishment in 1955, its corporate philosophy, and its vision for the future; however, the facility is also intended to encourage both internal and external communication, and is positioned as a space to generate new values.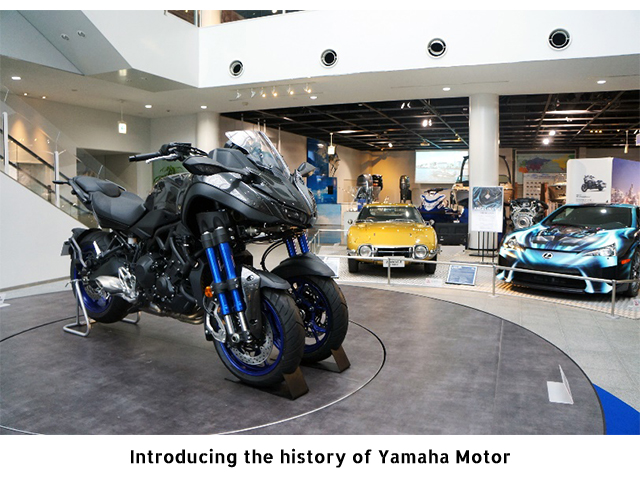 The Communication Plaza of course houses generations of Yamaha motorcycles, as well as the Toyota 2000GT, whose engine it supplied. But the museum also provides a glimpse of the vast range of Yamaha's businesses, including its marine products, snowmobiles, electrically power assisted bicycles, unmanned helicopters, golf cars, and clean water supply systems. The exhibits, which will doubtless appeal to motorcycle fans, Yamaha fans, and general tourists, can be seen free of charge.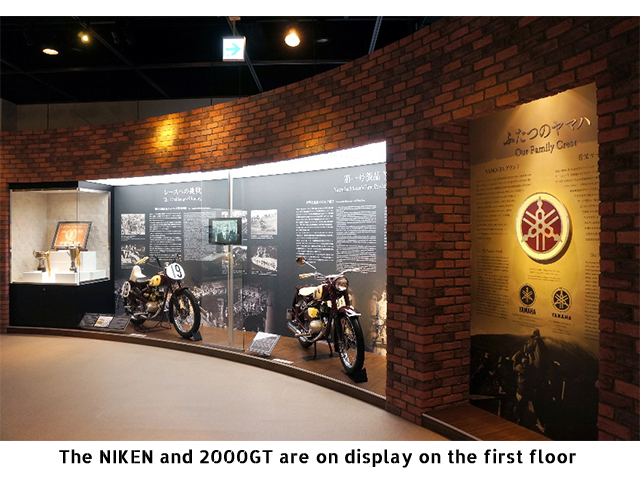 Katsutoyo Honda, of Yamaha's Corporate Communications Department, says: "Yamaha is a company that generates excitement. Our goal for the museum is to astonish our visitors, so that they will think 'I was able to see valuable motorcycles at first-hand,' and 'I discovered things about Yamaha I never knew before.'"
In recent years, Yamaha Communication Plaza has become a pilgrimage site for Yamaha fans, who often come here on motorcycle tours; the number of overseas visitors are also said to be increasing. In addition, since bus tours of Iwata City also drop by the museum, Honda comments that "It would be great if we could contribute to the revitalization of the local community."
The Past, Present, and Future of Yamaha Motor
The Yamaha Communication Plaza is a three-story building, and the first and second floors house exhibition halls; zones dedicated to the history of Yamaha Motor can be found on the second floor. The Corporate History Zone introduces Genichi Kawakami, the founder of Yamaha Motor, while the YA-1 (1955)—the company's first-ever product—is also on display. There is also an explanation of the difference between the Yamaha instruments and the Yamaha Motor logo marks, as well as other intriguing trivia.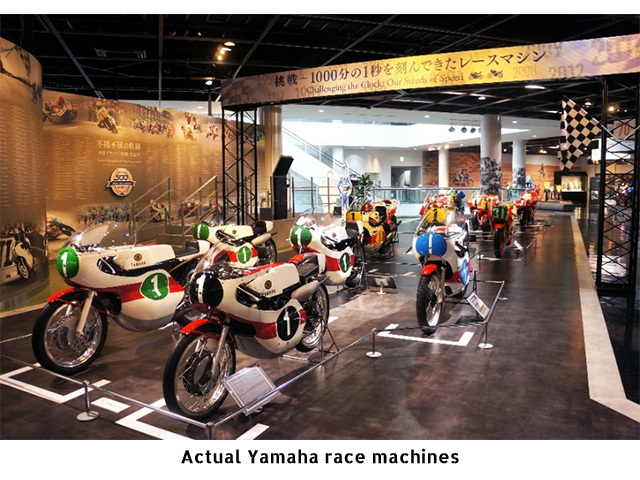 The Racing History Zone describes Yamaha's domination of the Fuji Hill Climb Race and Asama Kogen Race in 1955, the very year the company was established. This was a period of intense competition between rival motorcycle manufacturers andthe zone relates how, despite being a latecomer to the motorcycle industry, Yamaha Motor became famous almost overnight.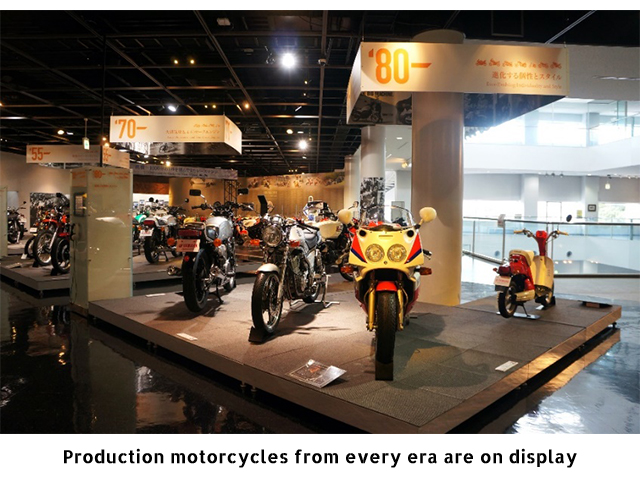 The NIKEN, Yamaha's recently launched, large-displacement, leaning multi-wheeler sports bike, stands on a turntable in the first floor hall. Honda comments: "I am excited to see what possibilities this motorcycle opens up in the future." This motorcycle, which provides an exciting glimpse of the possibilities of motorcycles, is at once a product for the present day and a taste of the future.
All Motorcycles are in Working Order
It is worthy of note that all the motorcycles on display at Yamaha Communication Plaza (excluding those that deliberately show pre-restoration states) are in working order. According to Honda: "It is extremely challenging to restore motorcycles and ensure they are in working order; however, by maintaining and preserving these older products, we can pass down the know-how we have accumulated to future generations."
Indeed, once every two years, the restored motorcycles take part in a "Historic Model Exhibition and Demo Run" at the company's test track.Last year, the event was held on November 3, and some 1,500 fans gathered to see historic Yamaha motorcycles cruise around the track. Some 35 well-known motorcycles made an appearance, including the YA-1, and the event proved a resounding success.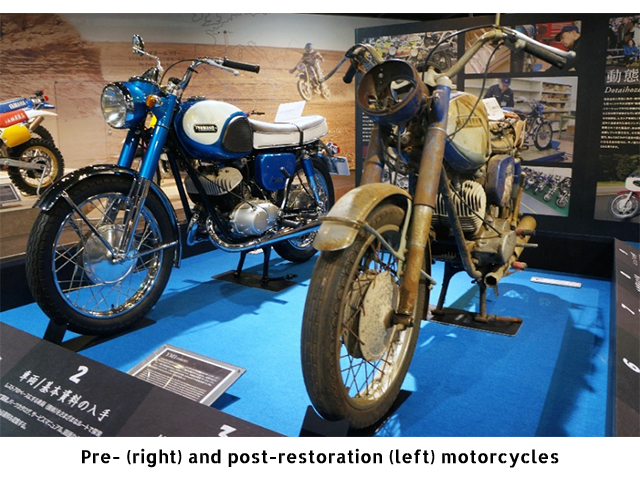 Source: Motorcycle Information (issue December, 2018)