BLF is sponsored with the key focus on motorcycle manufacturers, industry groups and local government authorities. The purpose is to contribute to creating a charismatic global motorcycle culture, while advancing measures aimed at promoting the motorcycle industry and market.
General motorcycle users are also brought onboard in a program aimed at stimulating candid discussion among industry figures of how to capture greater recognition and acceptance and coexistence with motorcycles in the general society, future visions for the use and role of motorcycles and other timely topics.
BLF is planned as an annual undertaking in cooperation with local governments distinguished by close ties with Japanese domestic motorcycle manufacturers, and was first held in 2013. The idea is for Japan's four major motorbike makers to take turns in hosting the event, with Kobe City in Hyogo Prefecture (which includes Akashi City, site of a Kawasaki Heavy Industries Akashi Works motorcycle plant) serving as the location for the Fourth BLF. As it turned out, the gathering was staged in conjunction with the annual "Kobe Fashion Week" celebration.
Just after noon on the day of the Forum, just prior to the official opening, directors of tourism promotion in Kumamoto Prefecture in Japan's main southern island of Kyushu, and the southern region of Mie Prefecture (consisting of 10 different municipalities and a combined population of 130,000 persons) gathered on stage side by side with their official mascot characters.
In this regard, Kumamoto was hit by a strong earthquake (7.3 magnitude) in April of last year, and suffered major loss of life and property. Southern Mie is famed as the traditional hub of Shinto, the native Japanese faith that has flourished from ancient times. Along with this, touring maps were handed out to visitors to generate appeal for motorcycling in these regions, including scenic locations, historical sites and other recommended sightseeing stops.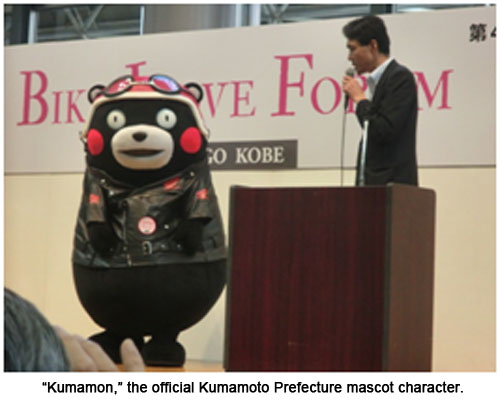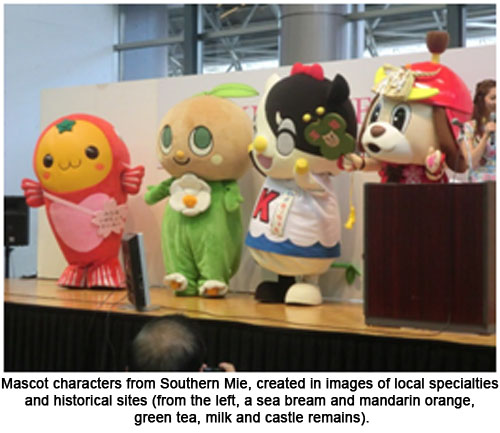 This session was followed up with the airing of a video message from actor and movie director Yusuke Iseya, who is also well known for his love of motorcycles. The theme of that presentation was how motorcycles can be highly enjoyable partners capable of bringing fun and convenience for a lifetime.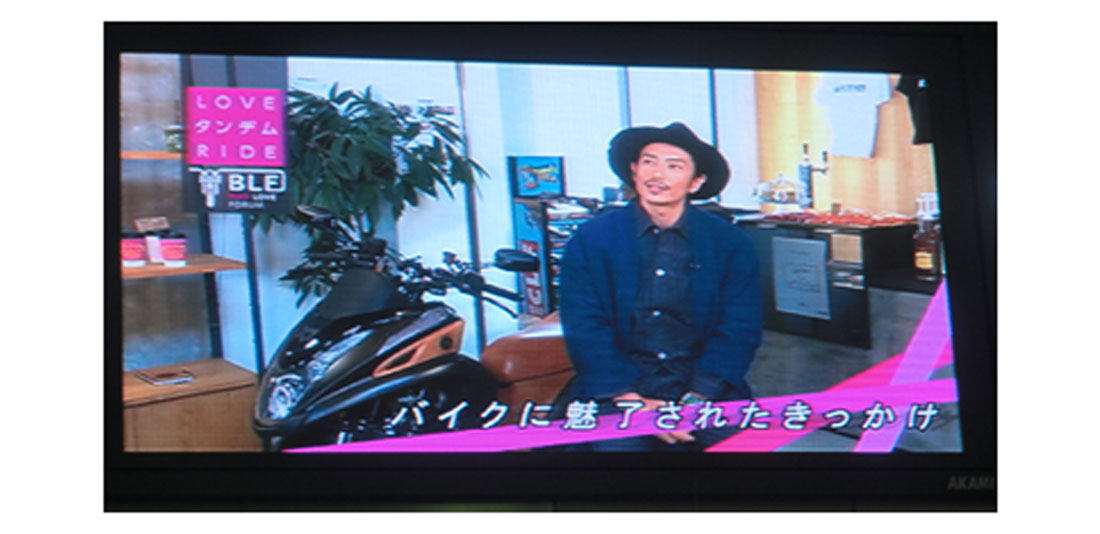 Opening Addresses
The Forum commenced at 1:00 p.m. The first opening address was delivered by Director Futoshi Kono of the Ministry of Economy, Trade and Industry's Automobile Division, whose remarks included: "Our Ministry is also closely researching how to once against strengthen Japan's domestic motorcycle market. As the first step in that quest, a major theme is to determine how to effectively expand the base of people who actually ride and enjoy motorcycles."
The next speaker was Vice Governor Kazuo Kanazawa of Hyogo Prefecture, who appeared on behalf of the numerous honored guests. Mr. Kanazawa explained how the origins of one of the themes of this latest BLF, "Disaster Prevention and Motorcycles," dates from the Great Hanshin and Awaji Earthquake of 1995 (a magnitude 7.3 quake that claimed over 6,000 lives). Motorcycles played a pivotal role in the relief operations immediately following that disaster.
With Kobe City also suffering heavy damage at that time, Mr. Kanazawa emphasized how the selection of Kobe as the site of the latest BLF was highly significant in view of that history and the Forum theme.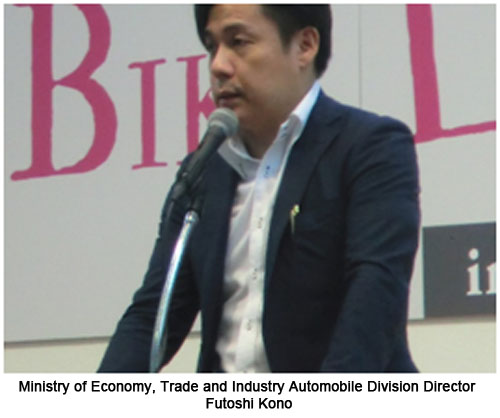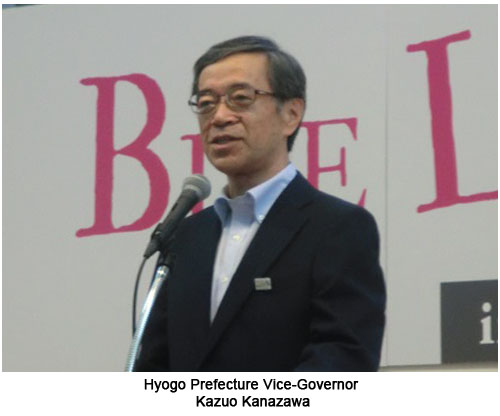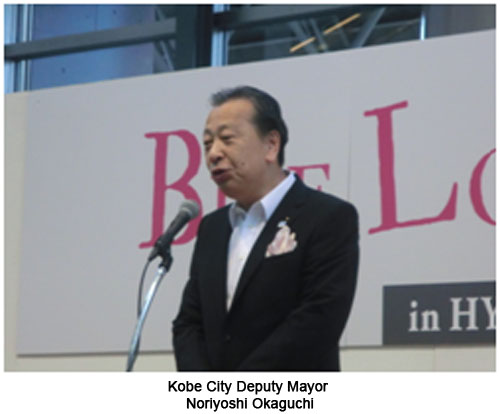 Kobe City Deputy Mayor Noriyoshi Okaguchi introduced the history of Kobe, a community with a current population 1.5 million that traditionally developed with the focus on shipbuilding and other heavy industries. One key location in that saga is the Port of Kobe, which in 2017 celebrates the 150th year of its opening.
Mr. Okaguchi pointed out how the motorcycle industry has been an important sector for Kobe linked to the many parts that are produced there.
In addition, plentiful occasions have been created for the citizens of Kobe to enjoy and grow more familiar with motorcycles, such as the All-Japan Motocross Championships held at Kobe Airport last year. He went on to note that such opportunities hold high potential for paving the way to redoubled expansion of the progress of the motorcycle industry and market.
His report also included information about how this BLF was being held in collaboration with Kobe Fashion Week, the largest scale fashion show event anywhere in Japan.
Progress in the Motorcycle Industry Policy Roadmap
The final speaker was Deputy Director Kazuyuki Takahashi of the Ministry of Economy, Trade and Industry (METI) Automobile Division, who provided an update of the progress being made in the Motorcycle Industry Policy Roadmap – the foundation of regular BLF activities.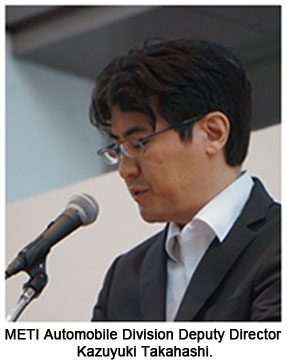 This Roadmap was prepared in 2014 by JAMA and other motorcycle industry groups, as well as national and regional government authorities that provide particularly keen support for the motorcycle industry. The goal is to assist efforts to use the supply of outstanding mobility inherent in Japanese motorcycles to help raise peoples' lifestyle quality and social and economic progress around the world, while simultaneously contributing to sound progress and sustained future growth for Japan's motorcycle industry.
The Roadmap objectively analyzes the circumstances surrounding motorcycles, breaking down current policy issues into nine key categories (four international and five domestically in Japan). Indications are then provided of 27 actual measures being carried out (13 internationally, 14 domestically). The stated goal is for the steady implementation of these initiatives to help Japan's annual domestic motorcycle sales volume recover to the one-million-unit mark by 2020.
The Ministry of Economy, Trade and Industry works through the BLF to support the push to achieve the Roadmap's goals. Deputy Director Mr. Takahashi extended the following appeal to visitors: "As we near the stage in which we need to generate meaningful results, we look forward to your crucial understanding and assistance."

Talk Show
The next phase of this BLF was a three-part talk show presentation.
Part 1: Disaster Prevention and Motorcycles
Professor Taro Sekine of Nihon University, who engages in research of disaster prevention measures using motorcycles, led the first part of the talk show. Professor Sekine questioned participating members primarily about how they utilize motorcycles in disaster prevention and response activities.
Panelists included member of the Shizuoka City Off-Road Utility Team (SCOUT), the Motorcycle Squad of the Fire Brigade of Ueda City (Nagano Prefecture), Bikers Emergency Response Team International (BERT; involved in relief activities on motorcycles), Kobe Gakuin University (Faculty of Contemporary Social Studies), and Yamato Town in Kumamoto Prefecture (a community that actively promotes expanded use of motorcycles).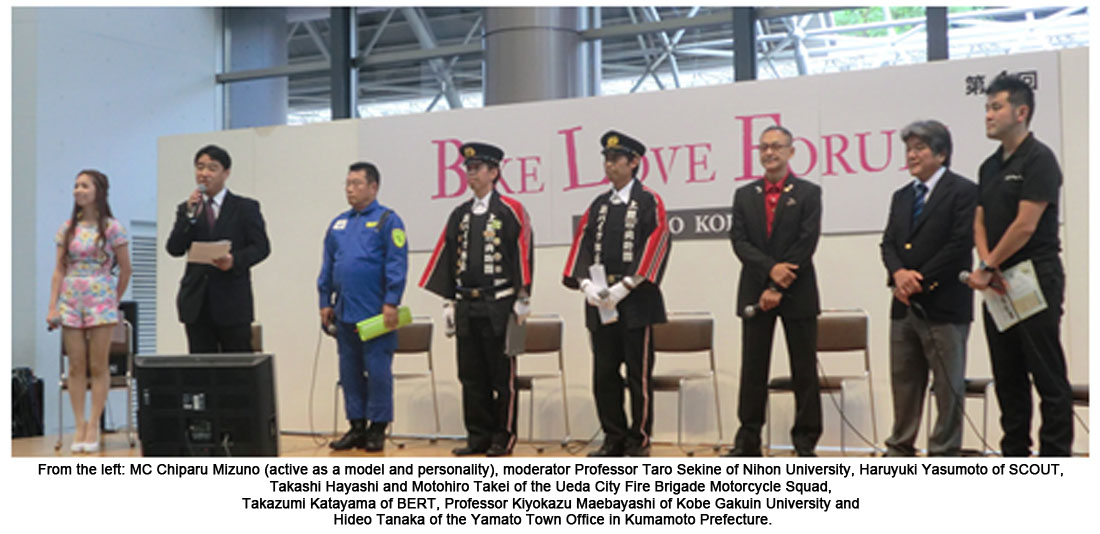 SCOUT is headquartered in Shizuoka City – a community of 700,000 located about 150 kilometers west of Tokyo. Lying close to the Nankai Trough, it has been designated as a zone prone to experiencing a massive earthquake sometime in the future. The team was launched after Shizuoka dispatched personnel to aid in rescue efforts following the Great Hanshin and Awaji Earthquake of 1995.
Large earthquakes often result in debris from collapsed buildings blocking traffic routes, as well as destruction of roads themselves. After that quake, however, motorcycles proved able to maneuver around and through such obstacles, as long as there was about one-meter of width available.
Observing this reality, the members dispatched from Shizuoka approached the city's mayor with the idea of establishing a disaster response team based on motorcycles. Wasting no time, SCOUT was launched the following year in 1996.
Over 20 years have now passed since the team was formed. SCOUT is currently 36 members strong (including one woman) and equipped with 40 machines (34 off-road motorcycles and six trail bikes). Major examples of its recent efforts to aid in local rescue efforts include dispatches to the site of the Great East Japan Earthquake of March 2011 (magnitude 9.0, over 15,000 deaths from tsunami tidal waves and other causes), as well as last year's Kumamoto Earthquake.
Ueda City is located in Nagano Prefecture, roughly at the geographical center of Japan's main island of Honshu. The city's Fire Brigade Motorcycle Squad was formed in 1996 with the mission of harnessing the mobility of motorcycles to respond to various types of disasters.
One key factor leading up to this move was a large-scale fire at an oil terminal on the outskirts of Ueda in 1994, which caused severe congestion on the surrounding roads and major difficulties in transport. Under those circumstances, it was found that motorcycles provided an effective means of transporting food and fuel and communicating information. This capacity was further confirmed in January of the following year at the time of the Great Hanshin and Awaji Earthquake.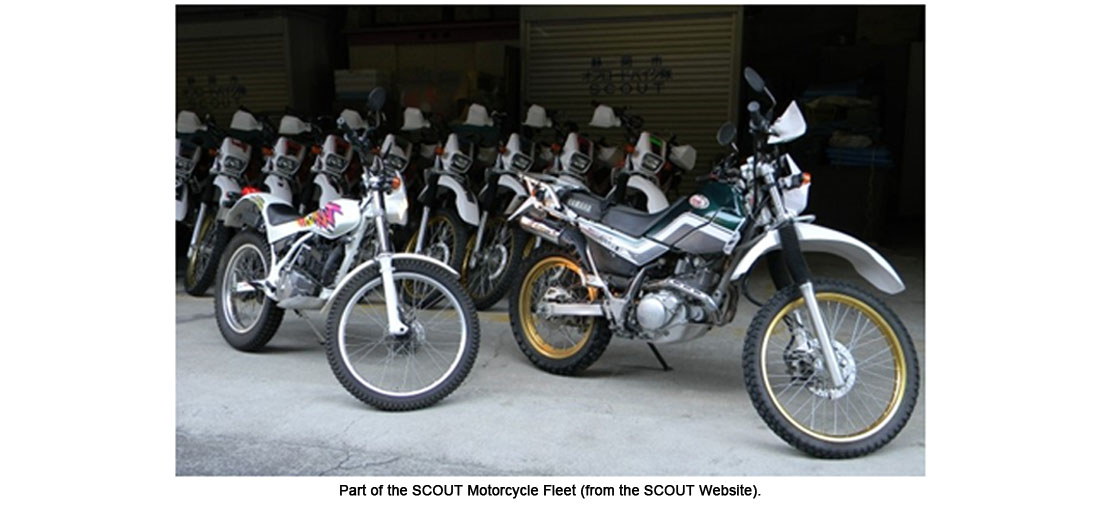 The Squad currently consists of 178 members and a fleet of 10 machines (six so-called "fire motorcycles" and four off-road models, all attached with red lights and sirens to enable them to make speedy emergency runs).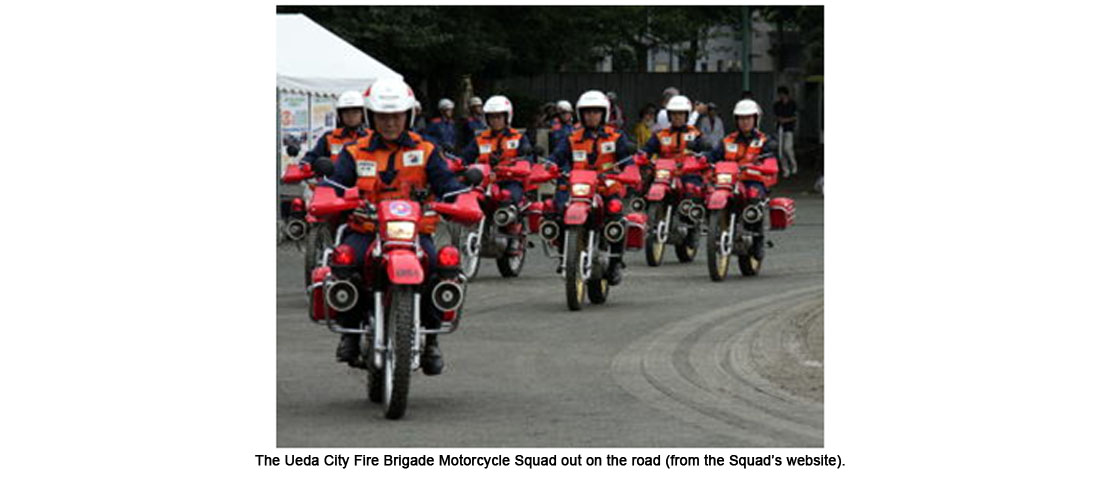 BERT International is a volunteer organization formed in the aftermath of the Great East Japan Earthquake of 2011, aimed at mobilizing the strengths of motorcycles to conduct relief activities in disaster-stricken areas.
During the talk show, Takazumi Katayama, former motorcycle racer and the current leader of BERT, discussed the advantages of motorcycles in disaster-relief operations. He noted that while motorcycles are incapable of carrying large volumes of cargo or sick and injured people, they are able to serve a vital role as advance units able to enter the disaster areas and communicate or otherwise carry back accurate information on the conditions there.
Mr. Katayama went on to comment that another "disaster of extraordinary scale" is likely occur again, while announcing the establishment of the BERT Future Disaster Prevention Research Institute with the aim of studying a wide range of disaster-prevention issues. At present, BERT is keenly involved in forecasts and preparations for the possibility of a mega-scale disaster generally described as the "Nankai Trough Earthquake."
According to of Kobe Gakuin University Professor Kiyokazu Maebayashi, his university is only school in Japan with a department offering official studies in disaster prevention. Professor Maebayashi noted that while he currently works closely with BERT leader Katayama, his research also extends beyond motorcycle relief operations to all areas of disaster response.
As a case in point, Professor Maebayashi described the following situation: "Upon the Kumamoto Earthquake that struck last April, the necessary people and commodities were assembled in Kumamoto City at an early point in time. However, troubles emerged due to the inadequate capacity to distribute those supplies to the stricken areas." As a result, he explained, there was no choice other than storing the commodities in warehouses, with some of the volunteers who had rushed to the scene forced to leave without being able to help out.
Based on this lesson, Professor Maebayashi stressed the need to establish reliable systems not only among those providing relief, but also on the part of recipients of such supplies and assistance. For example, despite going to all the trouble of assembling motorcycles for those operations, lack of preparations on the receiving side can prevent the outstanding mobility of those machines from being put to maximum use.
At Kobe Gakuin University, there is also a special group of about 20 women pursuing research into emergency food provisions for use at times of disaster. Nicknamed the "Disaster Prevention Ladies," the members of the group appeared at the BLF to demonstrate how these meals are boiled and otherwise prepared, while distributing samples for visitors to taste.

In Kumamoto Prefecture's Yamato Town[i], a community of some 16,000 residents with a long and venerable history, Yabe Prefectural High School not only recognizes the rights of its students to become licensed to operate motorcycles, it encourages them to obtain such licenses.
Taking part in the talk show, Hideo Tanaka of the Yamato Town Office explained this particular policy: "Our goal is to have young people ride motorcycles so that we can increase instruction and otherwise channel greater efforts into road safety education."
This high school contains a Motorcycle Competition Club – most likely the only activity of its kind in Japan. The goal of this club is for students to learn the details of road safety technology, including emergency measures. Based on the knowledge they acquire, numerous members are regularly selected as Kumamoto Prefecture representatives in the Motorcycle Safety Safe Driving National Competition held each year in August. The past year was no exception to that rule.
With so many Yabe High School students riding motorcycles on an everyday basis, their skills proved useful following the Kumamoto Earthquake last April. Boarding their motorbikes, they carried water from supply stations to the elderly or persons with lower limb disabilities or other physical problems, negotiated roads where fallen rocks and other debris blocked access by automobiles to confirm the safety and other conditions in depopulated communities and helped out in other highly compassionate and vital relief operations.
To bring this first talk show segment to a close, the MC Chiparu Mizuno offered the following summarizing comments: "We've heard how an earthquake may strike the Tokai region of Japan. It is important to be prepared, and not fall into a state of panic and confusion if such a disaster does occur. With that goal in mind, we need to act now to create motorcycle squads and begin to conduct activities aimed at mounting such responses."
Part 2: Motorcycle Culture
In Japan, the popular Bakuon ("Explosive Roar") serial comic book feature has also became a hit in its TV animation format. The general storyline depicts the adventures of a female high school student who finds herself captivated by the charms of motorcycles. In the second part of the BLF talk show, three professionals involved in the project of transforming this comic into an animated series took the stage to discuss why they feel Bakuon has become so fashionable.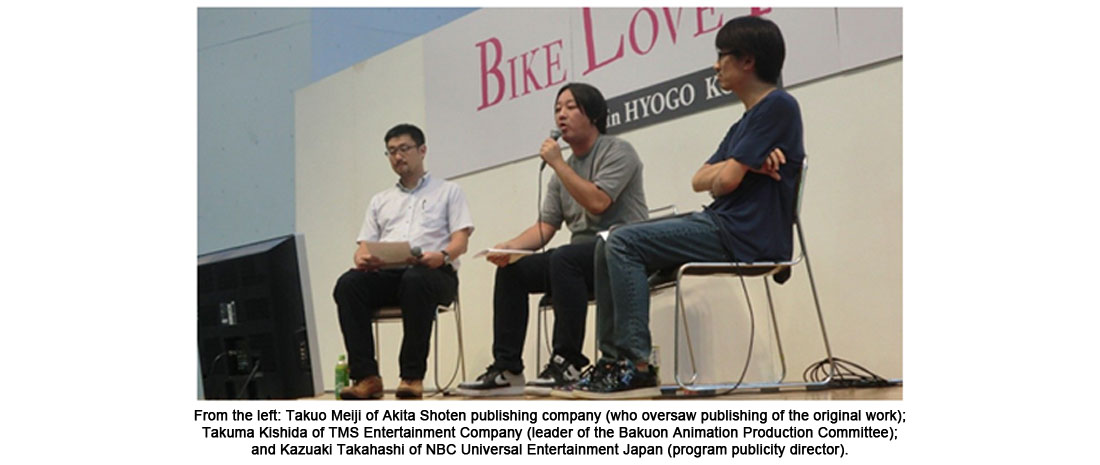 In its comic book form, Bakuon initially captured a passionate following with the focus on readers in the 20s-age group. In time, however, there was also a steady increase in rave reviews from those in their 30s and 40s, describing how the comic's portrayal of motorcycles was outstanding and served to accurately express the sentiments of riders.
What's more, many readers who previously showed no real interest in motorcycles also began to express their feelings, such as the desire to see what such machines could do for them. This feedback led to the idea of producing an animated film version, and the formation of the Bakuon Animation Production Committee.
In preparing to make the animated version, studies were conducted into how motorcycles had been handled in Japanese animation over the years to date. It was found that the overwhelming focus of motorcycles appearing in animated features has been on their presence as fantastic futuristic gadgets. In hit works such as Akira and Gundam, for example, motorcycles were portrayed as being transformed into robot-like mechanisms and other strong and awe-inspiring modes.
Bakuon was a major shift away from that trend, with the high school student heroine riding actual motorcycle models produced by real manufacturers, and furnishing subjective evaluations of those machines. Taking note of this, the Animation Production Committee sought permission from the manufacturers to produce an animated version true to the comic original.
In that interest, they explained how the purpose of the TV adaptation was also to convey the appeal of motorcycles to persons who had never ridden such machines in the past.
These efforts succeeded in winning permission from all targeted manufacturers, with an announcement made of plans to produce an animated rendition of Bakuon in October 2015.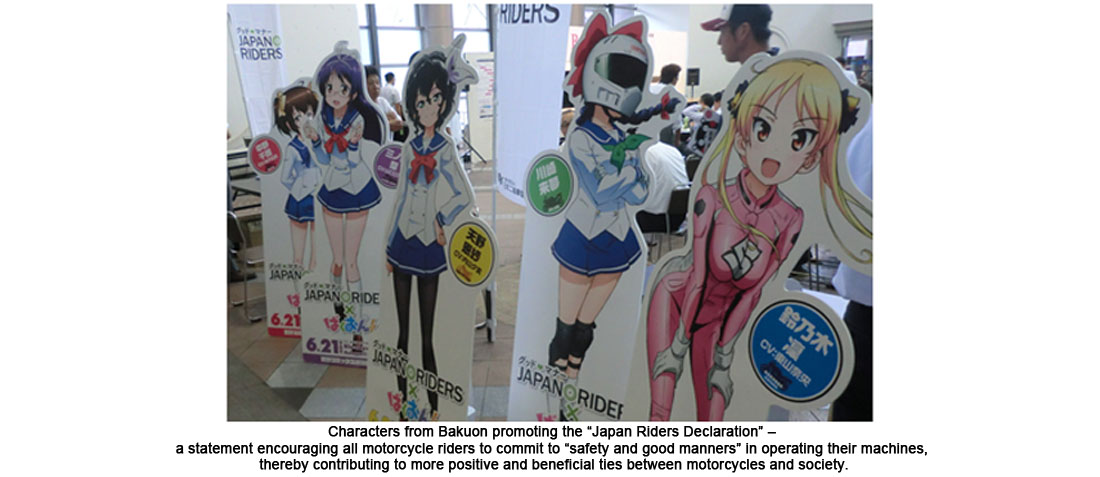 Over the years, comic book genre depictions of motorcycles have traditionally stressed the thrills (and risks) accompanying operation of those machines at high speeds. Bakuon, however, heralded a total departure from such emphasis on potentially dangerous and negative aspects of motorcycling. Instead, it devoted maximum time and energy to shedding light on the fun and constructive features of this means of road transport.
Based on this track record, even prior to the debut of the animated version, characters from Bakuon were utilized as road safety campaign symbols by the Tokyo Metropolitan Police Department. At present, a leading tire manufacturer, riding wear maker and other companies are also featuring those characters in their corporate promotions and publicity campaigns.
Closing out the second part of the BLF talk show sequence was Bakuon Animation Production Committee Leader Takuma Kishida, who declared that he was speaking on behalf of everyone involved in creation of the animated version. Mr. Kishida voiced his sincere wishes that Bakuon will continue to succeed in communicating the genuine appeal and pleasures of motorcycles, thereby supporting expansion of Japan's domestic motorcycle market.
Part 3: Sneakers and Motorcycle Fashion
The third and final segment of the BLF talk show brought together key personnel of leading producers of motorcycle riding wear, boots and other accessories who are involved in the planning, development and sales of such supplies. These industry reps used the session to reflect on key sneaker and motorcycle fashions of the 1970s, 1980s, 1990s and 2000s, in probing how the changing trends during these decades may suggest what lies ahead in the near future.
It was noted that the 1970s began as an era distinguished by intense rivalry by motorcycle manufacturers to bring the swiftest possible models to market. This was also a decade when almost all riding wear and boots consisted of jet-black leather offerings. Sneakers, meanwhile, were typically the types of training shoes worn for full-fledged athletic endeavors.
The second half of the 1970s, however, was marked by the arrival of a "jogging boom," with sneakers rapidly incorporated into the sphere of everyday lifestyle activity. With that, more colorful selections came to be marketed as footwear oriented for use when out and about town and on other occasions.
From the 1980s into the 1990s, a rich array of riding wear selections became available. Examples included loosely fitting "blouson" jacket style items, colorful creations reminiscent of skiwear and other fresh choices.
This trend reflected the marketing by Japanese motorcycle manufacturers of "Naked Tourer American" and other trendy new models. In reality, Japan was unique in both the number of motorcycle producers (four) and the sheer volume of diversified models brought to market, with no other country in the world coming near to that level.
Hand in hand with advances made in technology, riding gear and sneakers produced from a wide range of materials and styles also came into use during these years. The appearance of pioneering new materials also led to the incorporation of unprecedented levels of safety into riding wear as the era moved into the 2000s.
With the emergence of the new millennium, there was also a striking tendency toward the type of riding wear designed for practical use both on and off motorcycles. Based on these past trends, the participants in this phase of the talk show offered the following forecasts about what lies ahead in the near future.
Regarding sneakers, the general consensus was that the chief emphasis is likely to be placed on the following types of products: Shoes closely tailored to comfort and everyday lifestyle functions; versions designed to address the rising aesthetic sensations of consumers; and developments comprising a mix of a return to retro-style and the move toward enhanced function.
For riding wear, forecasts were for the marketing of fashions rooted in increased environmental awareness; clothing instilled with electronic capabilities compatible with smartphones and other devices; and versions equipped with advanced functions while likewise bringing onboard nostalgic designs conjuring up images from around the 1970s.
At that point, MC Chiparu Mizuno stepped in with the following appeal, bringing this final stage of the talk show to an end: "When we ponder the riding wear of the future, there is no doubt that safety is the single most critical theme. In that regard, it can be anticipated that airbags will come to included as standard equipment in such garments. Keeping that thought in mind, let's all do everything in our power to contribute to safe motorcycling now, and well into the future!"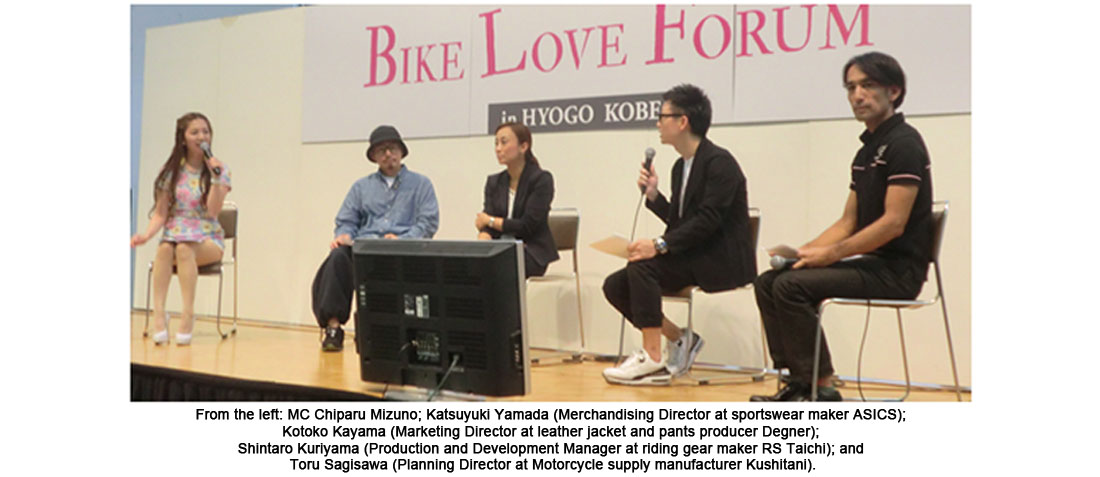 Bike Love Forum Wrap-up
The three talk show segments effectively addressed the sectors of "disaster prevention and responses," "culture" and "fashion" as they pertain to motorcycles, bringing attention to various different background factors and prospects for the future. After those discussions, JAMA Motorcycle Committee Chairman Hiroyuki Yanagi (President of Yamaha Motor Co., Ltd.) delivered the concluding remarks for BLF 2016. A summary of his comments follows:

"Now having been held four times, the Bike Love Forum serves as a regular and effective forum for advancing an ever-expanding series of diversified discussions. JAMA has received numerous hints from these exchanges, aiding us in coming to grips with issues such as how to improve the quality of our communications with young people. We are moving to take specific steps in that direction, such as a specialized website set to launched very soon".
"At this latest BLF, we focused our dialogue on the theme of "Expanding People and Society with Motorcycles." Any society is comprised of the two different factors of the "everyday" and the "extraordinary." Our quest for everyday society concerns "lifestyles rich in pleasure and prosperity," while for the extraordinary it is oriented toward "daily life rich in safety and security." From that perspective, I believe we can summarize our three talk segments in the following terms:
"The first session, "Disaster Prevention and Motorcycles," zeroed in on the extraordinary aspects of our daily lives. Of late, we have become increasingly aware of the fact that Japan is a nation truly distinguished by frequent natural disasters. Just recently, for example, heavy flooding occurred in Iwate Prefecture in northern Japan, with parts makers located there suffering damage that impacted manufacturers of complete vehicles for the domestic and overseas markets alike.
"This talk show allowed us to hear the voices of those who have experienced such disasters firsthand, with such reports reinforcing my own pride and satisfaction as a company involved in the manufacture of off-road motorbikes. Although off-road models were originally produced for use in sporting events that required negotiating mountains, rivers and the rough terrain, it was truly rewarding to learn how such motorcycles have also served as tools supporting the safety and security of disaster victims.
"The second talk show segment examined animation in the motorcycle culture, focusing in on "everyday" and "enjoyable lifestyle" characteristics. As we have seen, mobilizing new concept contents to develop innovative products through collaboration with the industry and individual manufacturers holds rich potential for realizing new business models. The reports we heard also pose the question of what factors lie behind the steady expansion in responses to certain product trends originally focused on consumers in their 20s to those in the 30s-age group. Taking this to heart, I want to delve more deeply into the critical theme and challenge of our communication skills with young people.
"In the third talk show session, which was concerned primarily with motorcycle fashion, the discussion topics also covered "everyday" and "affluent lifestyles." The marketplace is constantly diversifying under the impact of upgrades in needs and other changes, leading to the steady debut of new technologies. This makes it critical for us, as manufacturers, to persistently evolve our products and designs and rise to meet new challenges. Speakers pointed out that the marketing by Japanese motorcycle manufacturers of a rich array of models in the 1980s triggered a similar trend of diversification in riding gear. From the perspective of Japanese makers, we must continue to devote our energies to realizing the caliber of craftsmanship worthy of being conveyed and diffused from Japan to all corners of the world.
"With regard to riding gear, meanwhile, some motorcycle riders choose to wear stylish items with their own names emblazoned on the back. To continue to look good in such fashionable gear as we age, it is obviously important to stay in good physical shape. To all of you gathered there today, therefore, I encourage you to use motorcycles as a key focus in remaining healthy and trim, thereby striving to continue to enjoy functional and fulfilling lives for many years to come."
Closing Addresses
Two speakers delivered the final addresses of the Bike Love Forum. First up was Shoichi Shimoda, Director of the Tourism Bureau of Maebashi City in Gunma Prefecture (Maebashi is scheduled to host the Fifth BLF this year), who introduced the extensive sightseeing resources in Gunma. Following Mr. Shimoda was Chairman Junichi Yoshida of the All Japan Motorcycle Federation of Cooperatives, who closed out the day's agenda.
Chairman Yoshida directly experienced the use of motorcycles in local relief operations during two of the most serious earthquakes to strike Japan in modern times – the Great Hanshin and Awaji Earthquake of 1995 and the Great East Japan Earthquake of 2011.
Recalling the Great East Japan Earthquake, he quoted from words directed to him by a staff member of Ishinomaki City in Miyagi Prefecture, a community that suffered severe damage in that quake and ensuing tsunami tidal waves: "Everyone who fled the scene by motorcycle was saved. Compared to that, many of those who attempted to escape by regular automobile were swept to their deaths by tsunami waves after becoming caught in traffic jams."
Based on this harsh lesson, Chairman Yoshida is appealing to all motorcycle riders and organizations to promote the idea of riding motorcycles to survive disasters and live to see another day.
He also touched upon the projected difficulties in achieving the Motorcycle Industry Policy Roadmap goal of a recovery in Japan's annual domestic motorcycle sales volume to one million units by 2020 (shipments from JAMA member plants in 2015 were tracked at 373,000 units). In view of this, Mr. Yoshida spoke of the need for measures to improve the motorcycle-riding environment, including revisions in the legal system.

Activities at the BLF site that day included the preparation and distribution of boiled rice-based emergency ratios by the previously mentioned "Disaster Prevention Ladies" group from Kobe Gakuin, balloon art demonstrations and the holding of a woodwork class.



In collaboration with Kobe Fashion Week, a number of motorcycles were also displayed at a separate site (inside a local department store). Couples, families and other shoppers passing through the area were able to mount the machines to get a hands-on sense of sitting astride a motorcycle.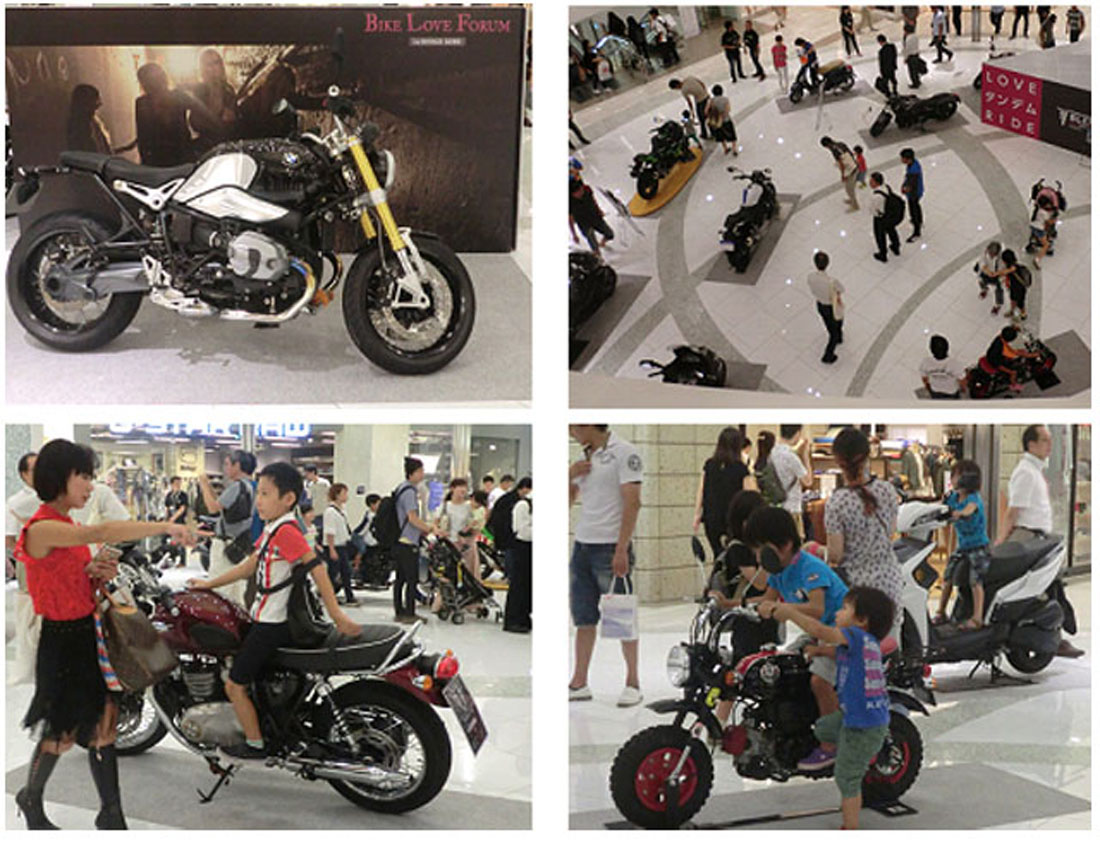 [i] Yamato Town introduction video (Japanese language only):
http://www.town.kumamoto-yamato.lg.jp/kihon/pub/detail.aspx?c_id=85&id=548&pg=1