In 1989, the number of motorcycle accident related fatalities in Japan soared to 2,575 persons, prompting the inauguration of this day as a means of helping curb such tragedies. Concerted efforts in that direction have proved fruitful, and in 2014 total deaths from motorcycle mishaps were tracked at 697 persons. While this is an impressive drop of 70% from the peak recorded in 1989, a large number of precious lives continue to be lost in such accidents.
For this year's Motorcycle Day, the Japan Automobile Manufacturers Association (JAMA) and affiliated groups teamed up to hold activities in Akihabara – the chic Tokyo quarter now all the rage with young people, overseas tourists and other visitors. Two major events were convened: (1) A joint press conference by Japan's four motorcycle manufacturers; and (2) "Motorcycle Day ~ Smile-On 2015."
1. Joint Press Conference by Motorcycle Manufacturers
Top executives from Japan's four domestic motorcycle makers met the press, with each delivering comments on how they view the current status and future horizons of Japan's motorcycle industry. The media-oriented event drew a total turnout of 73 persons.
First up was JAMA Motorcycle Committee Chairman Hiroyuki Yanagi (President, Chief Executive Officer and Representative Director, Yamaha Motor Co., Ltd), who delivered a review of the current status of the motorcycle industry worldwide and in Japan. According to Mr. Yanagi, global motorcycle production in 2014 was 59.62 million units, with 597,000 of those vehicles built in Japan. Despite this relatively low domestic output, however, Japanese brand motorcycles produced in other countries around the word have risen to claim an impressively high share of the market. In terms of unit sales in Japan, the 2014 total of 449,628 units sold represented a continuation of the recent sluggish trend on this market. (See Charts 1 and 2 at the end of this article.)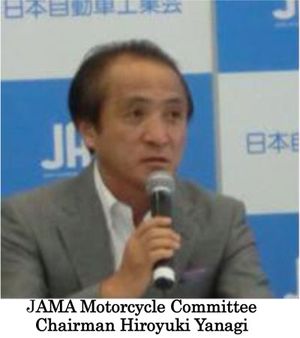 Motorcycle Industry Policy Roadmap
The motorcycle industry is a truly global business arena, which projections that it will continue to chart robust growth over the years to come with the key focus on the markets of newly emerging nations. At the same time, however, the increase in road accidents accompanying the popularization of motorcycles has become an urgent issue. Taking this situation to heart, JAMA has joined with other motorcycle industry groups, regional governments and other stakeholders in drafting a "Motorcycle Industry Policy Roadmap" geared to the current conditions of the motorcycle sectors in Japan and around the world.
The Roadmap seeks to use the superb mobility furnished by Japanese motorcycles to help raise the quality of life for people everywhere, while likewise contributing to social and economic progress. This, in turn, is envisioned as a means of supporting the sound development of Japan's motorcycle industry and ensuring its stable future growth. On the global market, the Roadmap addresses the theme of "Sustained Growth," while for the Japanese market the core benchmark is "Recovery and Restoration." On each market, initiatives are being advanced to coordinate the various policy themes, with action plans being conceived and implemented to resolve the numerous issues at hand.
This year, two JAMA Motorcycle Committee Vice Chairs – Takeshi Asano (Executive Officer, General Manager, Marketing and Sales Division, Kawasaki Motorcycle and Engine Company) and Katsuaki Watanabe (Director and Senior Executive Officer, Motorcycle Business Operations, Yamaha Motor Co., Ltd) – were chosen to profile the various efforts underway. On the global market, the following four countermeasures are being advanced: (1) Trade and Industry Policies (emerging countries); (2) Protection of Intellectual Property Rights (emerging countries); (3) Road Safety Initiatives; and (4) Harmonization of International Standards. For domestic market schemes, the roadmap encompasses five key areas: (1) Fostering a Safe and Secure Motorcycle Use Environment; (2) Constructive Coexistence with Society; (3) Improvements in Social Infrastructure; (4) Licensing System Reviews; and (5) Pursuit of Greater Comfort and Pleasure in Motorcycling.
The Roadmap also zeroes in on the sales sector – namely, the goal of raising new motorcycle unit sales within Japan to the one-million-unit landmark by year 2020.
Young People as Potential Users
One journalist posed the question of whether the goal of raising new motorcycle sales in Japan, currently at the 450,000-unit level, to 1 million units in 2020 might be overly ambitious. In response, Chairman Yanagi pointed out that motorcycle ownership in Japan is currently around 11.7 million units, with replacement demand alone estimated at some 600,000 units. Based on that, he emphasized the very real potential of attaining this goal on the strength of continued improvements in the use environment and other motorcycling fronts, as well as pioneering greater demand among young people. Mr. Yanagi underscored the selection of Akihabara, a major mecca for trendy youth these days, fir the location for "Motorcycle Day ~ Smile-On 2015" as one step in that direction.
True to Mr. Yanagi's words, the motorcycle models showcased both inside and outside the main event area attracted a steady stream of young people. Many took the time to climb astride a machine or two and otherwise get in touch with the cutting-edge developments that the industry has to offer.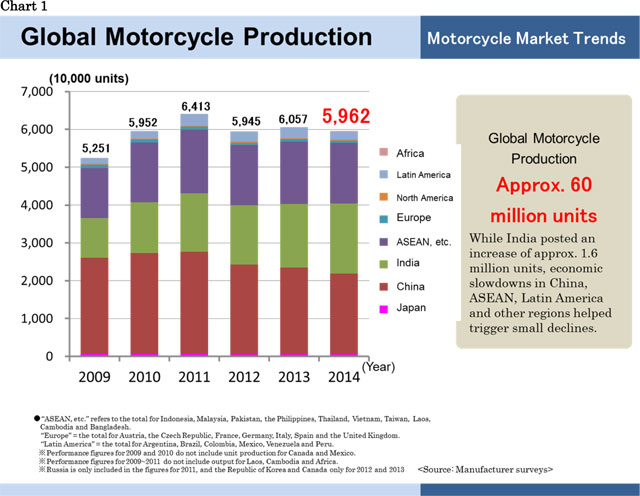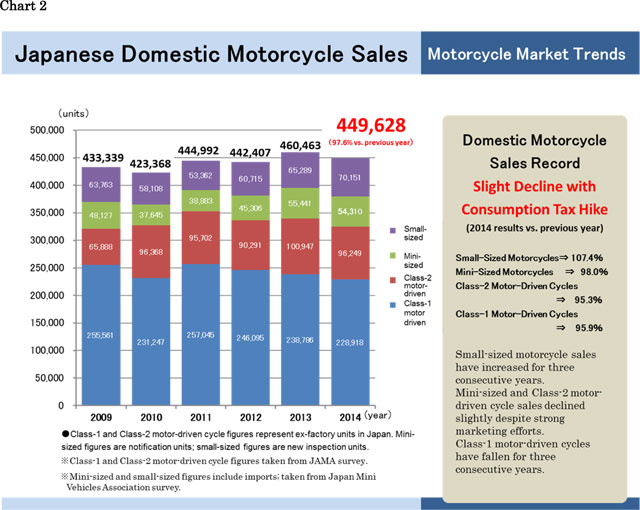 2. "Motorcycle Day ~ Smile-On 2015"
Following the press conference, "Motorcycle Day ~ Smile-On 2015" was held at the same site in collaboration with the Japan Motorcycle Promotion & Safety Association. JAMA Chairman Fumihiko Ike declared the event open, followed by the start of a road safety parade of motorcycles operated exclusively by lady riders.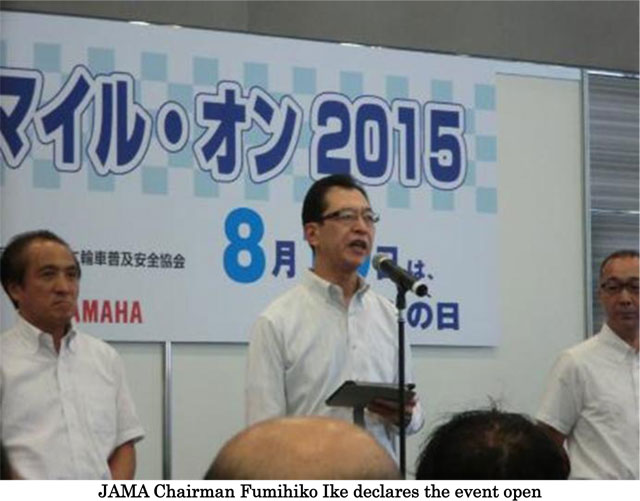 A band of 52 general female motorcyclists was led by an elite unit of lady motorcycle police. The contingent paraded down the main boulevard of Akihabara decked out in red sashes reading "Zero Motorcycle Accidents" and other safety slogans. Passersby were often startled by the sudden appearance and sound of this motorcycle band, not to mention the fact that all the riders were women. Many snapped photos, waved their hands and otherwise expressed warm support for the flashy convoy.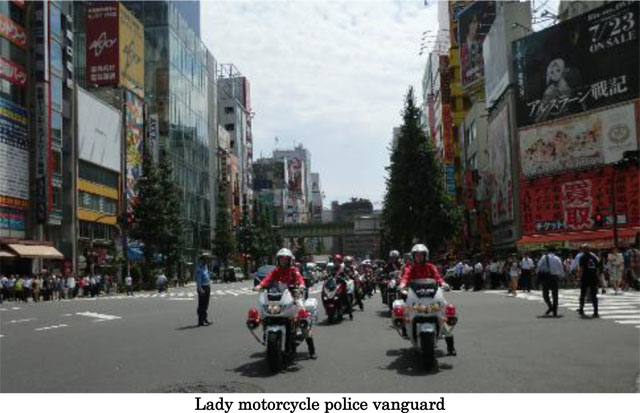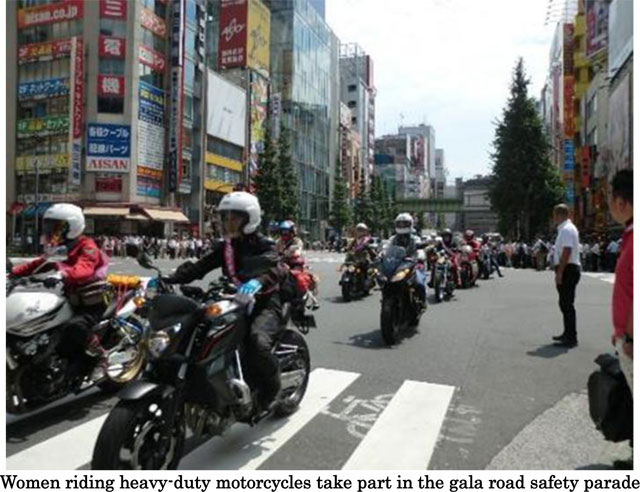 Live Talk Show
Shinya Nakano, former Moto Grand Prix racer chosen to serve as "Motorcycle Day Goodwill Ambassador," joined with Megumi Furusawa and Narumi Nobetoki (two female entertainers also known as major motorcycle buffs) for a live talk show. The theme of this lighthearted discussion was "Nice Ties with Motorcycles."
All three participants were in total agreement on the importance of avoiding accidents in the quest to foster good times and ties with motorcycles. In fact, each of them revealed their own personal mottos when it comes to safety, statements that have also been included in the "Japan Riders Declaration" sponsored by JAMA.
"Wearing protectors is proper and vital etiquette for all riders. Let's all operate our motorcycles in safety and style, raising the image of this outstanding means of mobility." Shinya Nakano
"Getting back home safe is the greatest satisfaction of all. When you feel like hitting the gas, remember this important basic truth." Megumi Furusawa
"Be sure to allow plenty of latitude, in both your time and state of mind." Narumi Nobetoki.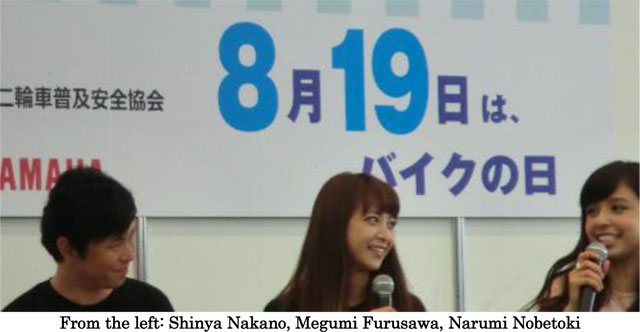 Motorcycle Road Safety Clinic
Appearing on the stage next was a highly accomplished lady motorcycle rider from a unit attached to the Tokyo Metropolitan Police Department. Finding an avid listener in Yuki Tanaka, a freelance announcer also well known for her love of motorcycling, the officer explained how 40% of motorcycle road accident fatalities occur from head injuries and another 40% from chest damage.

Regarding head injuries, it was noted that although helmets are worn they often fly off on impact, in many cases resulting in rider death. This points to the obvious need to more firmly fasten helmet chinstraps before taking to the road.
To guard against chest injuries, the most effective measure consists of wearing body protectors to ease blows to the upper body. Strong and lightweight chest protectors are being developed for the market these days, which when attached to mesh jackets designed for outstanding ventilation can be worn with comfort even during the hot summer months.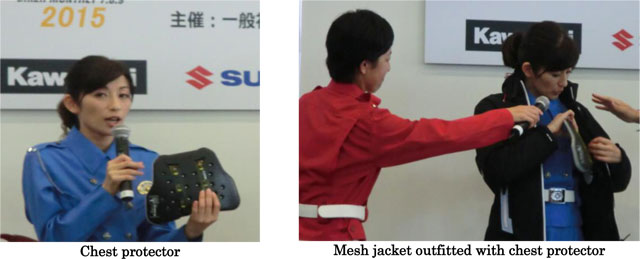 Fashion Show for Motorcycle Riders
Clearly, the safety and comfort of motorcycle riding varies widely by the gear that is worn. For today's motorcyclists, there is a growing demand for safe, comfortable and fashionable riding wear. Taking heed of this trend, a riding wear designer was also invited to take part in this event, with a mini rider fashion show unveiled.
A steady series of fashion models appeared on stage in highly functional riding wear. The designer chimed in with comments about how the lightweight materials are pleasing to the touch and well ventilated, safety-first designs featuring generous use of reflectors to raise visibility after dark and wear configurations rendering it easier for riders to move and maneuver their machines.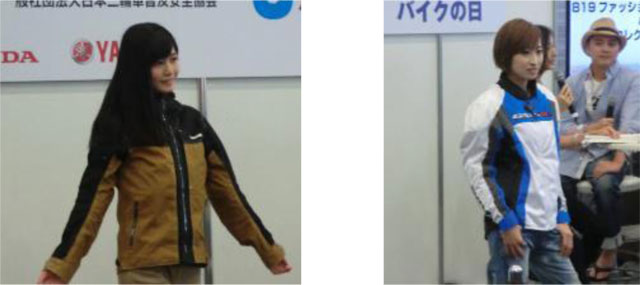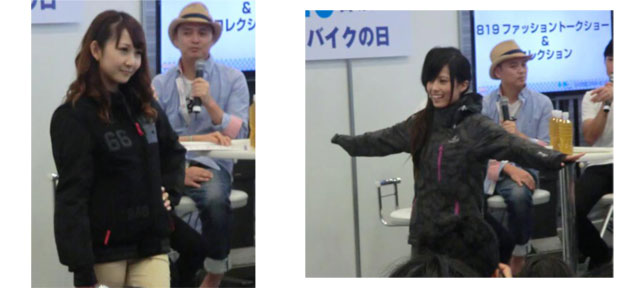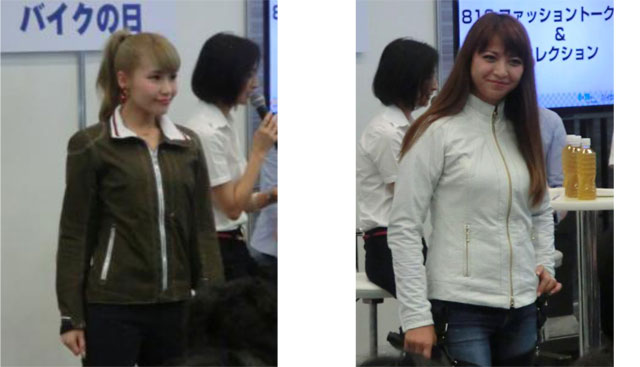 Promoting Tourism with Motorcycles
Time was also taken to examine a touring map published in Kumamoto Prefecture, home of a major Honda motorcycle production plan. The authorities in Kumamoto are utilizing this map to help highlight the sightseeing resources that their area has to offer, based on the idea of promoting tourism by attracting greater numbers of motorcycle riders. Kumamoto is pursuing that goal under the motto of becoming "The prefecture where riders want to live, ride and visit." On September 12, the cooperation of industry groups was enlisted in presenting "Bike Love Forum" under the keynote theme of "Conveying the charisma of motorcycles in clearer terms."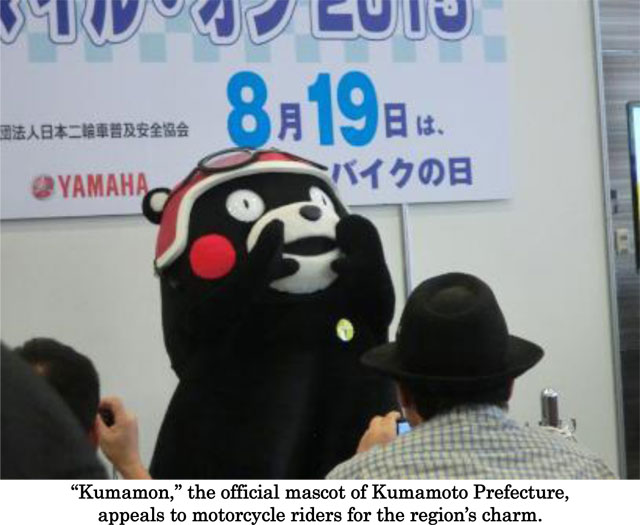 Presented to delight the kids in the audience was an event starring the "Masked Rider" – an action hero adored by Japanese children for decades. The mystery figure is famed for roaring onto the scene on a motorcycle and taking care of the bad guys.
Motorcycle Day ~ Smile-On 2015 turned out to be a major success, with attendance estimated at over 12,000 people in all.