"Motorcycle Day ~ Smile-On" is an event held in combination with "Motorcycle Day" (August 19, actually known as Baiku-no-Hi = "Bike Day" in Japan). This is a day designated by the Japanese government in 1989 with the purpose of helping stamp out road accidents involving motorcycles. The goal of "Smile-On" is to enlighten motorcycle riders and the general public about the importance of road safety, raise social awareness of Motorcycle Day and share knowledge of the many pleasures and appeal that motorcycles offer in our daily lives.
Besides the normal agenda, this year's gathering was also utilized to express support for early recovery and reconstruction from the damage suffered in the major earthquakes that struck Kumamoto Prefecture on Japan's main southern isle of Kyushu this April. The largest of those deadly quakes was measured at a magnitude of 7.3 on the Richter scale.
The opening ceremony for Smile-On was held at 11:00 a.m. Representing the sponsor side was Hiroyuki Yanagi, Chairman of JAMA Motorcycle Committee, who delivered the welcome address. Also on hand was Shinya Nakano, former road race world championship (MotoGP) rider, who was officially appointed "Motorcycle Day One-Day Goodwill Ambassador" on the spot.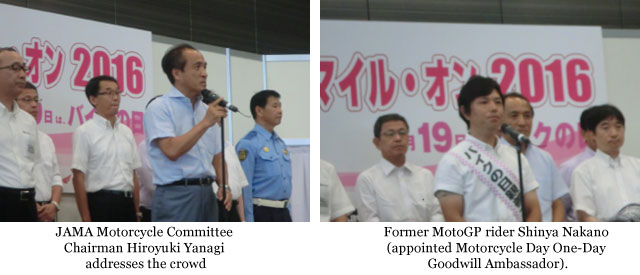 The activities kicked off in full when One-Day Goodwill Ambassador Nakano delivered the official opening declaration for "Motorcycle Day ~ Smile-On 2016." This was also the signal to launch the "Road Safety Parade," a procession comprised exclusively of lady motorcycle riders.
Road Safety Parade
Led by the "Queen Stars," an elite lady motorcycle-riding unit attached to the Tokyo Metropolitan Police Department (MPD), a group of some 50 general lady bikers packed the Chuo-Dori central boulevard of Akihabara. Decked out in red sashes inscribed with "Zero Motorcycle Accidents" and other catchy safety slogans, the convoy cut a colorful presence as it moved through the district.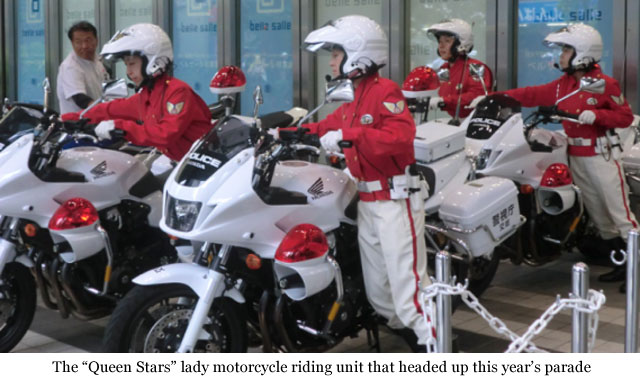 Following last year's inaugural procession, this was the second time that the Road Safety Parade was held in Akihabara. Featuring rows of several dozen motorcycles piloted exclusively by lady riders, passersby were clearly surprised by the eye-catching spectacle. According to well-known personality Narumi Nobetoki, a major motorcycle buff who regularly participates in Motorcycle Day events, the shouts and cheers from onlookers were even more numerous and louder than last year. Based on this, it would appear that the intended message of the importance of road safety was conveyed to the public.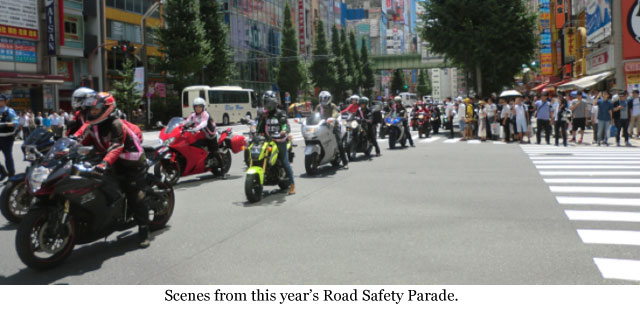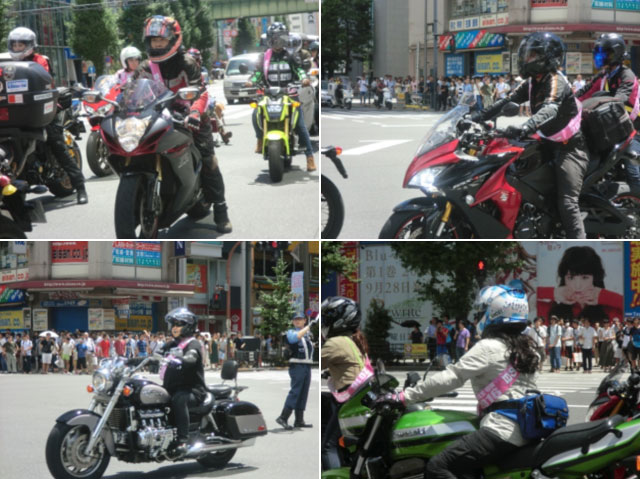 Bakuon Animation Talk Show
From the early afternoon, the event hall was utilized for the "Bakuon Talk Show." Bakuon ("Explosive Roar") is a serial comic book feature produced by cartoonist Mimana Orimoto that has been in print since 2011. The general storyline is a so-called "campus comedy" depicting the adventures of a girl high school student who finds herself captivated by the charms of motorcycles.
From April to June of this year, Bakuon was also produced and broadcast as an animated television series. The official website for this famous comic book series and TV feature is http://www.bakuon-anime.com/ (Japanese only).
Appearing on stage for the Bakuon talk session was the TV animation version director and the voice actress who played the high school coed in that production. They discussed the huge appeal and stimulation that motorcycles bring, the challenges and
fun of producing an animated cartoon series in which such machines played a key role and other related topics. Comments from the voice actress were of particular interest, as she explained how she came to embrace a strong sense of affinity with motorcycle manufacturers and riders after being cast in the role of the program's heroine.
According to the talk show MC, the impact of this comic book series has definitely helped to boost Japan's "motorcycle population." Supporting this observation were comments from several members of the audience that day about how reading Bakuon inspired them to obtain motorcycle licenses.
On display in the event hall were motorcycles decorated with colorful images of characters from the Bakuon comic, along with figures of those characters mounted on the machines.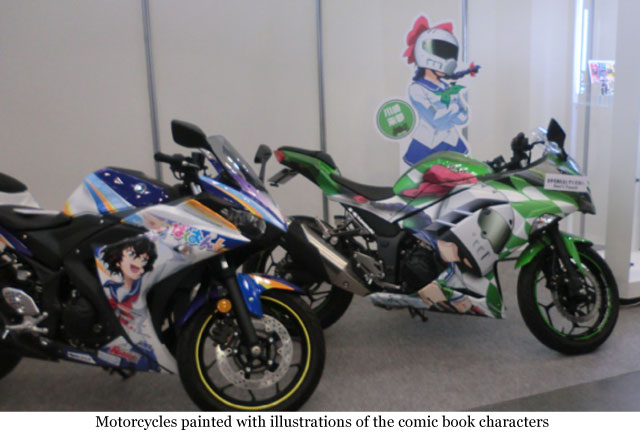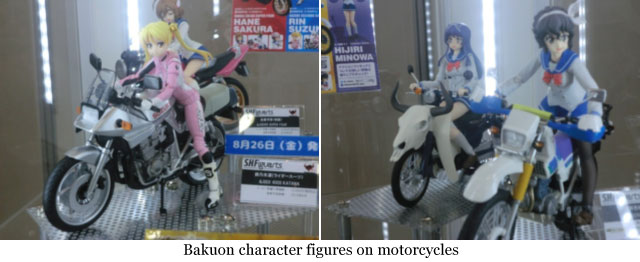 Metropolitan Police Agency "Road Safety" Presentation
Appearing next was a key member of "Queen Stars," the elite lady's only motorcycle-riding unit under the MPD. She was joined by guest personality Yuko Mizuno – a multitalented sportswoman who is also licensed to operate large-size motorcycles (above 400cc in displacement).
Ms. Mizuno opened with comments about how women worry about getting sunburned during the hot summer months, prompting them to wear long-sleeved shirts, long pants and gloves. She went on to mention, however, that riding motorcycles in lightweight
clothing presents the potential for dangers. Therefore, she recommends that all motorcycle enthusiasts, women and men alike, wear long-sleeved shirts and pants and durable gloves. This information proved effective in rousing the attention and interest of the audience with regard to proper road safety (especially in the summer).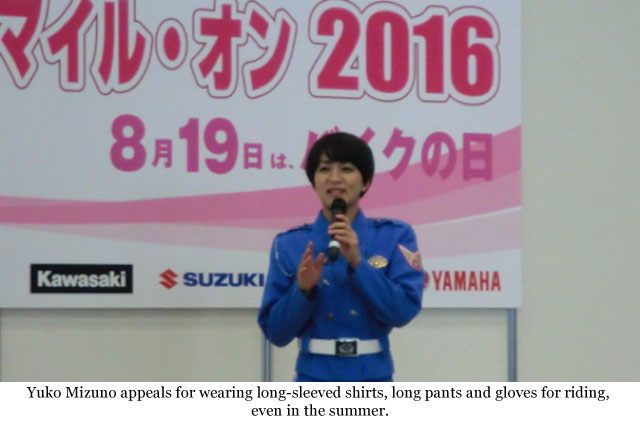 Next, the Queen Stars rider reported how the number of fatalities from road accidents in Tokyo for calendar year 2016 was 97 persons as of that day (August 21). Of that total, 20 persons (around 20 percent) died while riding motorcycles, underscoring the risks involved in riding. She then joined with Ms. Mizuno in asking the audience for their own ideas on how to reduce and hopefully eliminate motorcycle accidents altogether.
According to this lady motorcycle officer, motorcycle accidents in Japan can generally be divided into the following three patterns: (1) Cases when motor vehicles turning right at intersections collide with motorcycles proceeding straight ahead (because vehicles are driven on the left side of the road in Japan, right turns at intersections are made after confirming the absence of oncoming traffic in the right lane); (2) rear-end collisions with vehicles traveling in front; and (3) single-vehicle accidents.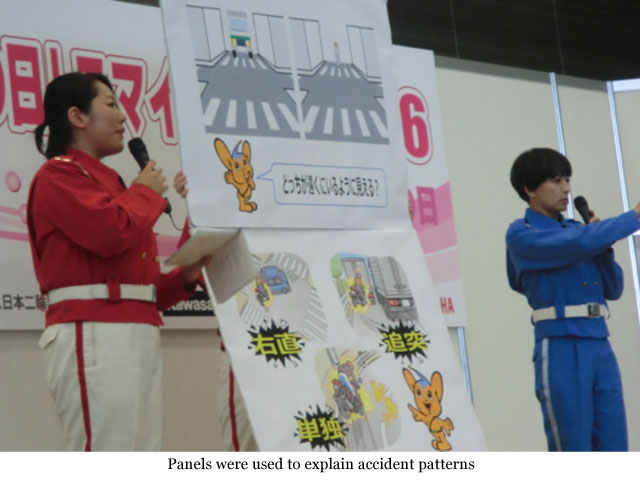 The talk included information about the main reason that vehicles making right turns collide with oncoming motorcycles. Specifically, it was demonstrated how vehicles attempting to turn right from the left lane tend to see approaching motorcycles as being further away than they actually are.
To better understand this fact, please take a look at the photo of the MPD panel below. As you can see, although the large truck on the left of the panel and the motorcycle on the right are at the very same position as they approach the intersection pedestrian crossing, the motorcycle appears more distant than the truck. This means that motorcycle riders must be aware of the possibility of such optical illusions on the part of car drivers making right turns. Being prepared for sudden right turns by cars can help riders take evasive action and prevent this type of accident from occurring.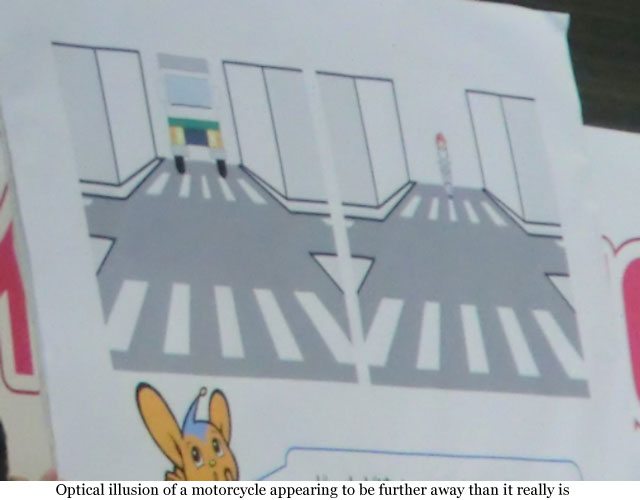 Rear-end collisions are also prone to occur when taking one's eyes off the road or otherwise failing to look ahead properly. There are also accidents caused by moving to overtake vehicles up ahead by pulling into the left lane, and crashing into vehicles parked on that side of the road. Naturally, recklessly passing other vehicles is never a good idea. However, when there is a viable need to pass, such maneuvers should be made in the right lane (because vehicles are driven on the left side of the road in Japan).
For single-vehicle accidents, the primary cause is failure to properly negotiate curves when traveling at excessive speeds. As everyone learns, observing the posted speed limit is a critical key to safe driving in all situations and environments.
It is vital to take precautions to protect the bodies (and lives) of the rider and passenger in the event of encountering an accident. As reported by the Queen Stars lady rider speaker, 50% of the deaths in fatal accidents that occur while riding motorcycles result from head injuries, while another 30% of those fatalities are caused by damage to the chest and abdomen areas.
In view of this, it is obviously important for both riders and passengers to wear both helmets to protect their heads, and protectors designed to shield their chest and abdominal regions. With helmets in particular, it is essential to firmly fasten chinstraps to prevent the helmet from flying off upon the impact of a collision. In addition, riders should never wear caps, hats or any other items under the helmet, and otherwise properly put on and secure their helmets.
For protectors, Ms. Mizuno asked the members of the audience if they wear such protective equipment when riding their motorcycles. About half replied "yes."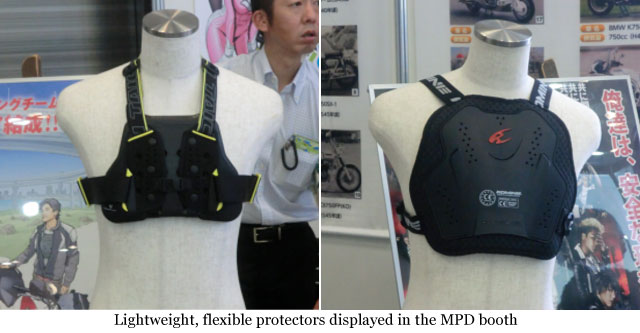 Protectors used in the past have tended to be stiff and difficult to move about in. They proved particularly hot when used during the summer. Today's protectors have benefited from impressive technical advances, making them far lighter in weight and designed to ensure greater motion and flexibility.
What's more, they are increasingly being engineered with airbag functions, highlighted by wires that connect riders to their motorcycles. With this system, complete separation of the rider's body from the motorcycle results in the wires pulling out the plugs on airbags inside the jacket, causing the bags to deploy and inflate in a mere 0.02 seconds.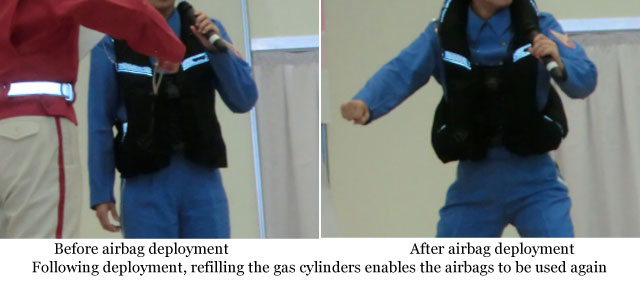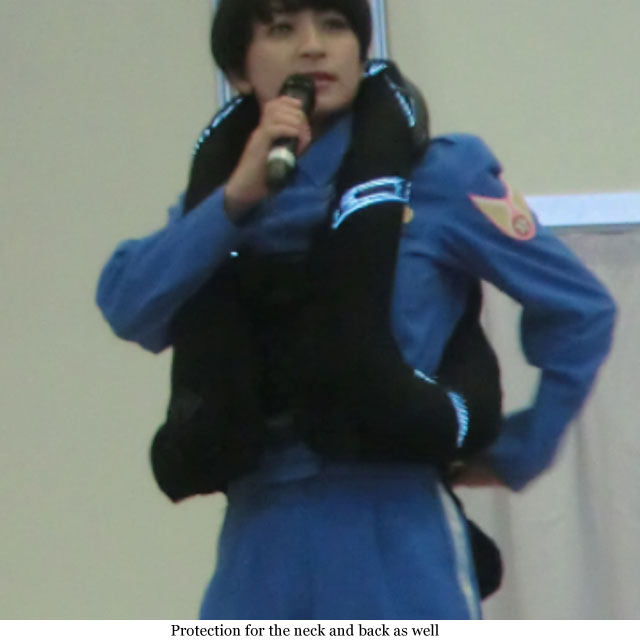 Following her discussion of safety equipment, the Queen Stars member moved to the next topic – issues surrounding riders themselves. With that, she summoned the MPD road safety mascot "Pipo-kun" (named after the pipo-pipo sound of patrol car sirens) to join her and Ms. Mizuno on stage. The smiling Pipo-kun made a flashy appearance, politely greeted the audience and then suddenly covered up his belt bucket with his hands.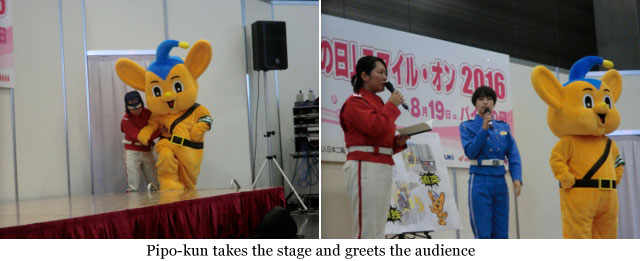 With that, the policewoman asked the crowd: "Do you remember the color of Pipo-kun's buckle?" However, very few of those present were able to respond correctly.
That question was used to make the following point: People are blessed with considerably wide horizontal vision (between 180 to 200 degrees). Yet, despite the fact that most of the audience members were able to view Pipo-kun for a certain period of time, they were unable to remember the color of his belt buckle.
The lesson to be learned here is that even if something is fully visible, little if any information will actually register in the viewer's mind without paying close attention to the specific object. When operating motorcycles as well, therefore, simply having a wide field of vision is inadequate. There is a vital need to examine everything with a keen awareness that unknown dangers may be lurking somewhere.
The lady rider then introduced her next panel, informing the crowd: "Even so, when all of your attention is concentrated on only one item, you may find yourself unable to zero in on other objects."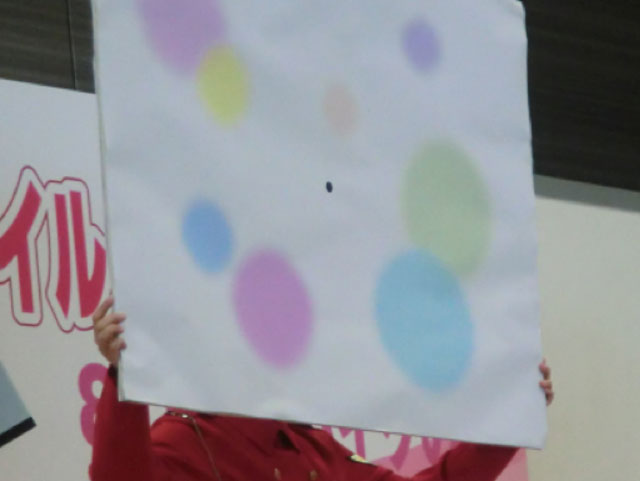 True to this warning, the panel contained a single black dot at the center, with lighter colors distributed around the vicinity of that dark speck. Pipo-kun piped up: "Ladies and gentlemen, please stare at the black dot at the center of this panel for about 10 seconds." With that, the light colors were steadily dimmed, with only the black dot eventually remaining visible.
This was a demonstration of how intensely concentrating on a single spot causes other objects and images in the vicinity to fade from view. Applying that logic to motorcycle riding, the point is that paying close attention to a wide spatial area is imperative to effectively confirm potential dangers on the road.
Finally, Ms. Mizuno turned to the audience, which included persons of various different ages, and brought the session to a close with the following declaration and request: "Motorcycles are machines engineered to be enjoyed by people of all ages and walks of life. To continue to reap the maximum benefits and pleasures from these vehicles throughout our lives, let's pay ultimate attention to the precious value of safety!"
Kumamon "Kumamoto Earthquake Reconstruction Support Show"
In recent years, Kumamoto Prefecture has also become famous for "Kumamon" – the adorable and cuddly local mascot character who is a particular favorite with Japanese children. In the next phase of the afternoon program, the affable Kumamon emerged on stage to receive an enthusiastic round of applause and cheers.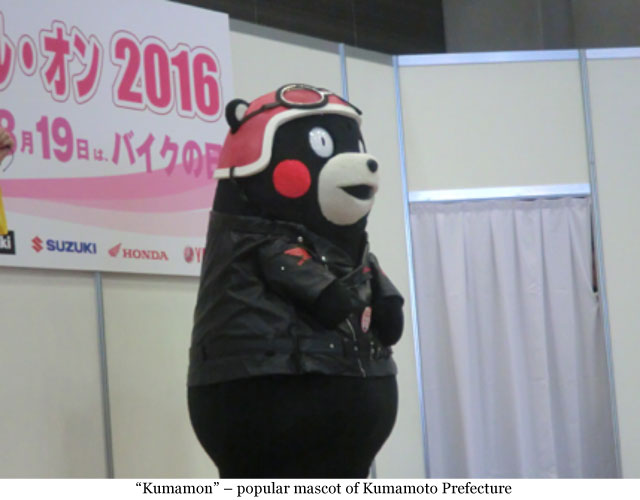 Though darling in appearance, since Kumamon has no speaking function it is impossible for him to verbally address crowds. Lending a hand on this occasion was Masataka Naruo, Deputy Director of the Kumamoto Prefecture Tokyo Office, who explained the current situation in Kumamoto Prefecture as Kumamon looked on.
According to Deputy Director Naruo, after being struck by two massive earthquakes on April 14 and 16 (both over intensity 7 on the Japanese seismic scale), the prefecture has also experienced more than 1,900 smaller aftershocks since then. Even today, several months after the big quakes, over 1,700 residents remain confined to evacuation shelters.
Mr. Naruo was quick to add, however, that the local road and railway networks in the prefecture have been nearly completely restored to normal, with absolutely no obstacles remaining for sightseeing opportunities in this region. With that, he made a pointed appeal for leisure travel to Kumamoto. In closing, Mr. Naruo also voiced gratitude for the enormous amount of aid supplies, financial donations and volunteer support received by Kumamoto Prefecture in the wake of these terrible disasters.
Next up was Mr. Hiroshi Hatano, Honda's technical expert and a member of the "Honda Ryokuyokai Kumamoto Racing with Kumamon Team." Accompanied by Kumamon, Mr. Hatano and his team gained attention for participating in the "Suzuka 8 Hours FIM (Fédération Internationale Motorcycliste) World Championship" and other motorcycle races.
(To view a video of Kumamon taking part in the Suzuka 8 Hours FIM World Championship (2015), please go to the following website http://www.honda.co.jp/movie/20158/monkey01/)
Mr. Hatano handed out motorcycle touring maps of Kumamoto Prefecture prior to his talk. Using that map, he explained how there are hardly any locations that cannot be reached by motorcycle, and encouraged biking buffs to visit Kumamoto and savor travels there. He added that such visits would help further fuel the drive to help the area recover from the earthquake damage.
Mr. Hatano also reported that the Honda Kumamoto Factory, a motorcycle manufacturing facility in the prefecture, suffered damage in the earthquakes. Although partial operations resumed in June, he explained that the factory has yet to get back to full production status.
Editor's note: The Honda Kumamoto Factory resumed full operation in early September this year.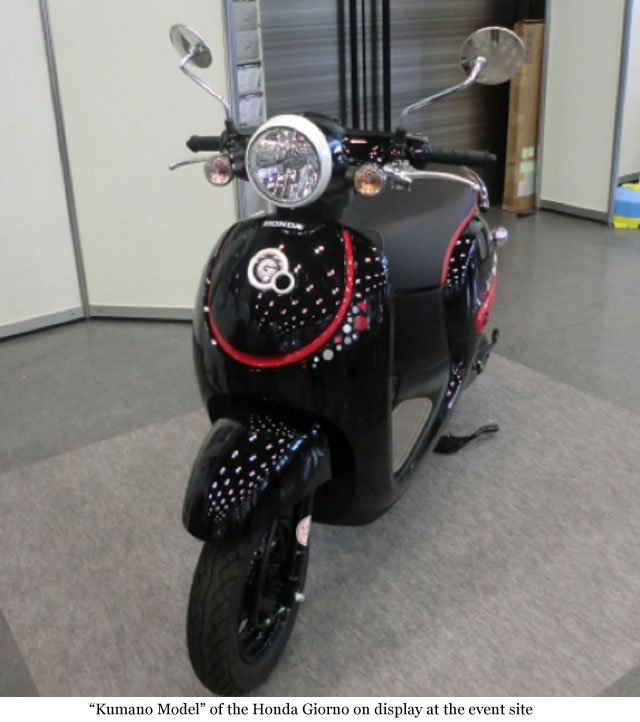 Personality Narumi Nobetoki, who motorcycled around Kumamoto Prefecture with Kumamon to film television footage for sightseeing PR (and also rode in the Road Safety Parade earlier in the day), was asked to discuss her impressions of that touring stint:
"In Tokyo, there are numerous locations where it is difficult to freely ride motorcycles. Compared to that, Kumamoto Prefecture is characterized by deep local understanding and consideration of motorcycling. I was truly impressed with the region, where just about everywhere you go helps riders tap into the full joy and appeal of motorcycles."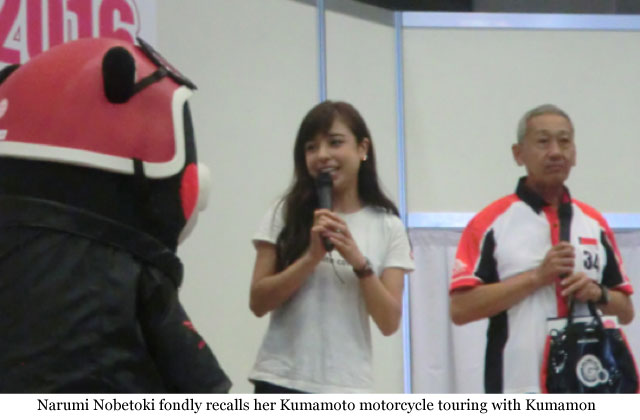 Listening on the right is Hiroshi Hatano of the "Honda Ryokuyokai Kumamoto Racing with Kumamon Team."
For the final segment of this session, Kumamon demonstrated "Kumamon Calisthenics." These are warm-up exercises designed to be performed before getting onboard motorcycles to ride. The children in the audience enthusiastically joined with the popular mascot to take part in the dance-like limbering up routine.

Lady Rider Meeting
The closing chapter of Motorcycle Day ~ Smile-On 2016 was a talk show session headed up by Motorcycle Day One-Day Goodwill Ambassador Shinya Nakano. He was joined on stage by three very special ladies – personalities and avid motorcycle riders Narumi Nobetoki and Risa Shimokawara, and motorcycle trial competitor Erika Kodama.
The theme of their discussion was "Maintaining Good Relations with Motorcycles." The unanimous conclusion reached by all four participants was the desire to take advantage of Motorcycle Day as a golden opportunity to spread understanding of the many merits of motorcycles, while working to encourage the general public to more fully utilize and appreciate this outstanding means of transportation.
To truly enjoy motorcycles, all speakers pointed out the importance of remaining earnestly aware that roads are a shared infrastructure asset, while making the greatest possible efforts to avoid self-absorbed riding, maintain good road manners and observe all traffic laws and rules in excelling as "good riders." The underlying message was that it is vital to go beyond simply seeking pleasure from motorcycles, in the quest to uphold the spirit of public responsibility, common sense and respect.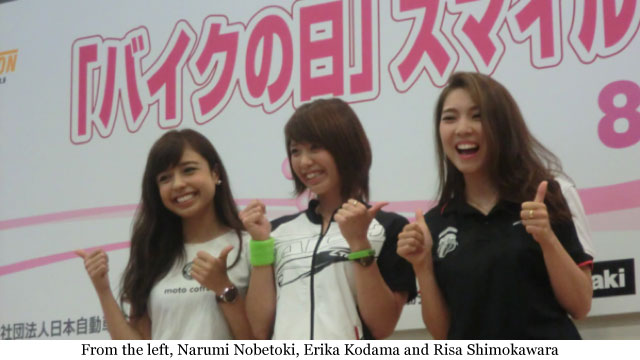 Indoor and outdoor exhibits included 20 units of the latest models released by Japan's four domestic motorcycle manufacturers. Visitors were able to climb aboard to get a direct feel of these finely tooled machines.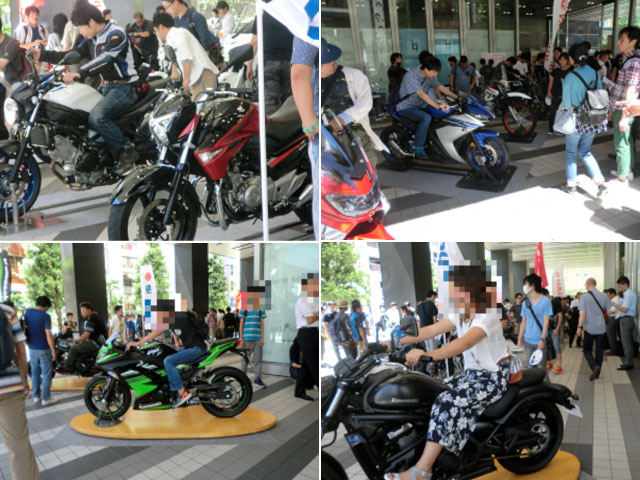 Motorcycle Day ~ Smile-On 2016 turned out to a resounding success, coming to a close at around 4:00 p.m. The total number of visitors to the event throughout the day was tracked at 15,300 persons.