AHM's new factory inauguration is witnessed by Vice President Jusuf Kalla, who is accompanied by the Minister of Industry Saleh Husin, Trade Minister Rahmat Gobel, and Head of the Investment Coordinating Board Franky Sibarani. Also present at this ceremony Japanese Ambassador Yasuaki Tanizaki, President Director of PT Astra International Tbk Prijono Sugiarto and President, CEO and Representative Director, Honda Motor Co. Ltd. Takanobu Ito.
The new AHM factory is built in an area of 84 hectares in Indotaisei Industrial Estate, Kota Bukit Indah, Karawang, West Java. As a joint venture company of PT Astra International Tbk and Honda Motor Co. with the share composition of 50% : 50%, AHM invests Rp 3.3 trillion to manufacture Honda AT Scooter in this AHM Karawang factory. This new production facility complements the three preexisting Honda motorcycle factories, in Sunter, Pegangsaan, and Cikarang.
In this new factory, AHM applies new development of production process technologies which in result give more efficient, environmentally friendly, and supporting the convenience work of workers. Some technologies applied in the AHM production process are the most advanced technologies that have not been applied in other countries. These technologies make AHM able to continuously give a motorcycle with world-class quality. The new AHM factory also implements the concept of green company using environmentally friendly raw materials and begins to exploit natural resources such as solar power plants.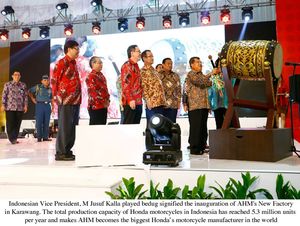 President Director of AHM Toshiyuki Inuma says a huge development potential of the motorcycle market in Indonesia is anticipated AHM by establishing a new factory which is able to manufacture Honda motorcycles in larger quantities, so AHM can consistently meet the high demand of Honda motorcycles in each segment.
"We want to be able to always meet the needs of the society with the best technology of our products that are well-known of fuel-efficient, high-performance and environmentally friendly. From this new factory, we want to bring Honda motorcycle manufactured by Indonesian people to foreign countries through export plan in the future."
This Honda motorcycle factory is capable of absorbing more than 3.500 new workers. This new factory is also supported by approximately 230 skilled and trained women operators in assembling Honda motorcycles. Overall, the Honda motorcycles factory in Indonesia has the ability to absorb more than 22.400 employees.
Executive Vice President Director AHM Johannes Loman says in the company's business chain, AHM is currently supported by around 15.245 business institutions which consist of 981 Honda motorcycle direct-and-indirect suppliers, 19 Micro Small Medium Enterprises under assistance of AHM, 29 Honda main dealer, 1.817 Honda dealers, 3.646 Astra Honda Authorized Service Station (AHASS), 250 Honda service outlets, 350 workshop under assistance of AHM, 7.652 spare parts stores, and 300 outlets of Honda motorcycle financing companies, 86 Honda shipping logistics companies, as well as 115 outlets Honda motorcycle insurance companies.
Honda's motorcycle business chain spread across all provinces in Indonesia has a total business income of approximately Rp80trilion involving about 300.000 workers. The large numbers of workers who earn a living in the Honda's business chain inspire AHM to continuously creating the best Honda motorcycle for Indonesian people so as to move the wheel of the economy, as well as accompany society to achieve their dreams.
"When added together with family members, indirectly there are approximately 1.2 million people who feel the impact of Honda's motorcycle business. In the spirit of Satu Hati or One Heart, we believe Astra Honda Motor's business would be an asset for the nation which create proud and prosperity for society, including our new factory in this Karawang".
Honda began to accompany Indonesian people since 1971. Over the 43 years to accompany Indonesian people, Honda has been used by approximately 47 million customers in everyday activities. Currently, AHM has 14 models of Honda motorcycles consisting of 35 types and 96 color options to meet the needs of Indonesian customers in various segments. Throughout the first 11 months of this year, Honda has sold 4.67 million units, leading the national motorcycle market with a market share of 64%.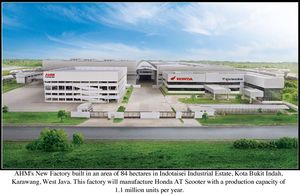 AHM Karawang Factory Expansion
To continuously meet the demand of motorcycle market, AHM also has started the expansion of its new factory in Karawang through its capacity up of 500.000 units, so that total AHM production capacity in next year will be 5.8 million units per year. This production facility will manufacture Honda sport model and start its operation on 2nd semester 2015. AHM invests Rp 1.9 billion in this expansion of AHM Karawang factory.
The production capacity up will increase the amount of labor absorbed by AHM since this new expansion factory will have approximately 1.500 new workers. The total AHM workforce will be 24.000 employees at the end of 2015.