The 39th Federation of Asian Motorcycle Industries (FAMI) meeting was held on September 3-7, 2018 at Marriott Surawong Hotel, Bangkok, Thailand by the host, The Thai Automotive Industry Association (TAIA.)
There were the representatives and experts from seven FAMI's member countries, Thailand, Indonesia, Malaysia, Philippines, Vietnam, Taiwan and Japan. For the coordination meeting aimed to discuss, exchange views and update the progress of motorcycle industrial in each member countries for encouraging the way to support and development the motorcycle together. During the five days of meeting consisted of 39th Management Committee meeting, 39th Technical Committee meeting, 33rd Research & Planning Committee meeting and Sub-Committees meeting. For the last day, TAIA organized the special social tour to Ayutthaya province, the old Capital of Thailand, 60 kilometers far from Bangkok and took around 1 hour.
All FAMI's member visited the fantastic place of "Bang Pa-In Royal Palace," "Wat Mahathat" and was enjoyable with Thai food and shopping at "Ayutthaya Floating Market."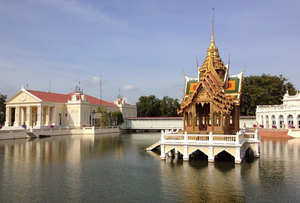 "Bang Pa-In Royal Palace"
This FAMI meeting in Thailand was successful and become the useful for all member to effort into the developing of motorcycle industrial onwards. For the next meeting will hold at Kobe, Japan during March 4-7, 2019, hosted by Japan Automobile Manufacturers Association (JAMA).