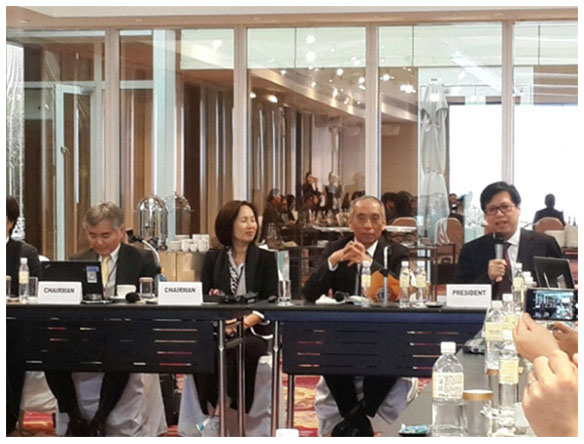 Further to what being said, the 36th Technical Committee & Sub-Committee meetings, 30th Research & Planning Committee & Sub-Committee meetings, 36th Management Committee meeting and 18th Annual General Meeting were also successfully held and fruitful, especially at the 18th Annual General Meeting in 10 March 2017, at which Mr. Johannes Loman was unanimously approved as New President of FAMI for 2017-2019 period, on 24 March 2017, Mr. Johannes Loman as FAMI New President has elected:
Mr. Sutarya as New Office Bearer from AISI (FAMI Vice President from AISI);
Mr. Andi Hartanto as New FAMI Secretary General;
Mr. Viktor Pelawi as FAMI Treasurer;
As for the next FAMI meeting, it will be hosted by VAMM in Hanoi – Vietnam on September 2017.
At the end of the meeting, all of FAMI delegates bid farewell and thanked to Mr. Gunadi Sindhuwinata for his 4 years tenure as FAMI President and reciprocally Mr. Gunadi Sindhuwinata wish all the best for the new FAMI administration and thanked to all the members. The last but not the least, we are thanking to Mr. Hari Sasono for his good administration during his tenure as the Secretary General of FAMI during February 2013 to March 2017.
Afterward on 5 April, 2017 at IMMA General Assembly – Berlin, Germany, Mr. Johannes Loman had appointed as Vice President of IMMA. Mr. Loman will work closely with Mr. Stephan Schaller, the current President of IMMA.