Motorcycle Market in Japan
The motorcycle market, which includes mopeds and scooters, in Japan has reached a mature stage. In 1982, the shipment of moped/scooters (vehicles with an engine displacement of 50cc or under) totaled 2.78 million units. In contrast, total moped/scooter shipments in 2017 were only 170,000 units. This reflects a decline in demand owing to various factors, including a decline in the population of scooter license holders due to a lower birth rate, a shortage of parking lots, the soaring price of vehicles, and inconvenience due to unique traffic rules applicable to moped/scooters. Meanwhile, the demand for motorcycles (with an engine displacement of 50cc or more) varies depending on category. Overall, the market has been recovering gradually since the collapse of Lehman Brothers in 2008. In recent years, annual sales volume has been trending above 200,000 units.
Scooter/Moped Shipment Volume Trends in Japan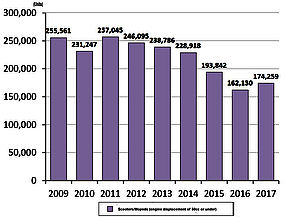 Motorcycle Sales Volume Trends in Japan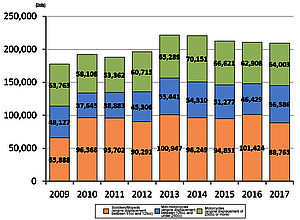 The BIKE LOVE FORUM (BLF) is an annual conference. At the encouragement of the Ministry of Economy, Trade and Industry (METI), companies and organizations related to motorcycles, and local governments gather together all at once to hold discussions on the promotion of the motorcycle industry in Japan and on the development of a motorcycle "bike" culture. The forum aims to rekindle recognition of the role of motorcycles play in society while the government and private sector search for the key to transforming the motorcycle market in Japan into a growth market once again.
This year is the sixth year of the forum and the first time the BIKE LOVE FORUM was held in the Tohoku region, the northern part of Japan which was devastated by the Great East Japan earthquake. The event was held in Ichinoseki City, Iwate Prefecture. This year editors from motorcycle magazines that are popular among riders attended the forum and exchanged their strong beliefs with each other on the future of the motorcycle market in Japan. These are the highlights of this year's forum.
METI message
The Bellino Hotel Ichinoseki was the venue for the forum. It was a full house packed with BLF related officials and general visitors. Futoshi Kono, director of METI's Automobile Division took the podium to give an opening address. In his opening remarks, the director made the following statement. "Looking at the automobile industry overall there are a number of major concerns including trends in automobile import regulations levied by the United States (tariffs), autonomous driving technology, and vehicle electrification. Japan aims to work with the automotive industry to accelerate strategic planning, and deploy policies both in and outside of Japan. While minor, we are starting to see benefits from the motorcycle industry policy roadmap, which is being implemented by BLF members. As a result, the environment for scooters and motorcycles is improving. Through these measures, I hope we can all work together to energize the market and expand the number of scooter and motorcycle riders."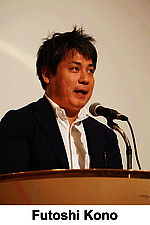 Takahiro Naito, deputy director of the Automobile Division, reported on the detailed progress made in the roadmap Director Kono mentioned in his opening statement. He introduced positive turnaround in the environment, including streamlining the number of driver's training days required to get an AT-only mini motorcycle license (engine displacement of 125cc or under), expansion of ETC and touring plans for motorcycles on highways, and traffic safety classes for high school students.
Creating a culture?Riding to disaster-stricken areas!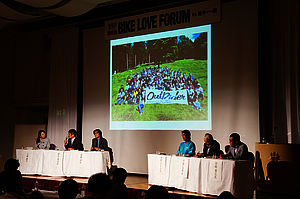 Panel discussion (1)
Panelists:
Takako Miura, moderator (freelance announcer)
Gamon Sugo, editor, Outrider (born in Morioka)
Jun Saito, literary writer (rider living in Morioka)
Hikaru Ise, motor sports photographer (rider living in Ichinoseki)
Hiroyuki Todate, monozukuri general manager, Department of Commerce, Industry, Labor and Tourism, Iwate Prefecture
Naohiro Oki, deputy secretary, Motorcycle Federation of Japan
Iwate Prefecture, which hosted the sixth BLF, was one of the prefectures damaged in the Great East Japan earthquake that occurred in March 2011. The theme of Panel Discussion (1) was "Creating a Fantastic Bike Culture." Takako Miura, who served as panel moderator, raised the issue that to develop such a culture "it would be necessary for regional communities to be accepting of motorcycles." This changed the focus of discourse to what could riders do for the disaster-stricken area.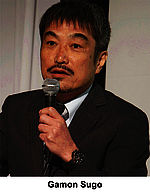 Gamon Sugo, editor of Outrider, and Jun Saito, a literary writer living in Morioka, both discussed their experience going to disaster-stricken areas within Iwate Prefecture when they were on location together. Sugo said, "I initially felt guilty showing up on my bike at Ofunawato, Miyako and other areas that were heavily hit by the earthquake because it looked like I was on a pleasure trip touring the area. However, when I arrived, I was greeted by locals thanking me for making the trip by bike from far away. Looking back I am now convinced it was the right thing to do to go by motorcycle."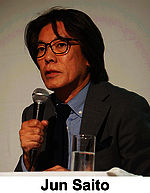 Saito gave a similar account of his experience. "People in the disaster-stricken areas were truly welcoming of us coming by bike. That is why I think that as many riders as possible should visit the Tohoku area and see the devastated areas first hand and report on what they saw and experienced."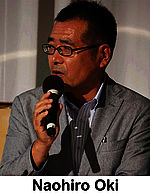 The Motorcycle Federation of Japan (MFJ) has been promoting a touring program to support restoration since 2015. Naohiro Oki, MFJ deputy secretary, said, "Natural disasters have continued to hit Japan this year as well. We aim to continue to carry out our restoration support touring program so that these disaster-stricken areas do not go forgotten."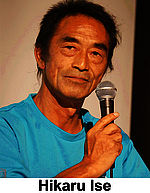 Hikaru Ise, a resident of Ichinonseki, promoted the area by saying, "Ichinoseki is home to Fujisawa Sports Land, one of Japan's leading motocross courses. Every year the All Japan Motocross Championships are held here. I invite you all to come and watch. This is a great way to encourage the local community."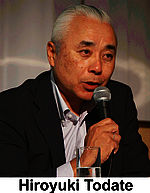 Hiroyuki Todate, who undertakes tourist promotion in Iwate Prefecture, said that, "Many riders are very passionate people. I want riders from all around Japan to come to Iwate to show everyone how enjoyable it is."
What can riders do for the disaster-stricken areas? They can simply tour around local areas. The local residents are happy to see people from outside. This gives them the strength to fight harder. In a land where there are many natural disasters, emotional support from riders in disaster-hit areas is very significant as it is one way they bikers can contribute to society (create a culture). This was a constructive discussion that raised this question.
Think positive! Sizeable potential demand for motorcycles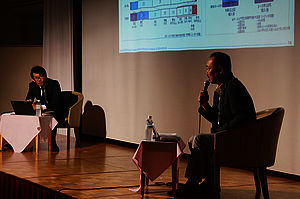 Talk Show
Talk show participants:
Eiryo Goda, director, Japan Consumer Marketing Research Institute
Hiromichi Nomura, director, Ei-Publishing Co., Ltd.
The next portion of the forum was a talk show. The theme of the show was "Discussing the Outlook for the Motorcycle Market in Japan." Eiryo Goda, who conducts analysis of motorcycle market trends and director of the Japan Consumer Marketing Research Institute, and Hiromichi Nomura, director of Ei-Publishing Co., Ltd., which publishes various hobby magazines including one specializing in motorcycles, took the stage.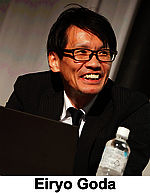 First, Goda introduced key points based on research results of the recent motorcycle market in Japan. According to Goda, "In recent years, demand trends have been showing positive signs among the younger generation. In particular, the 250cc-class sports type motorcycle is gaining popularity. Meanwhile, the average age of consumers purchasing a new motorcycle is 52.7, signaling the aging of riders. A unique feature of the Japanese market is that many people continue to ride motorcycles even after the age of 60."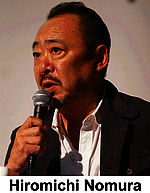 Nomura responded by pointing out that, "In Europe there are many people in their 70s and 80s that still ride motorcycles. I believe that to shore up the motorcycle market in Japan, new demand from young people is crucial. It is important to maintain our existing users as well. So if someone in their 50s can still ride for another 30 years, then it is important that we undertake marketing and investment that targets these consumers."
Goda continued by remarking that "Motorcycles are a product for which there is considerable potential demand. People who one day wish to ride a motorcycle even though they currently do not have a license, people with a license but no motorcycle, people who rent motorcycles and used-motorcycle owners are all groups that represent potential demand for new motorcycles."
Nomura closed the talk show by saying, "There are many people that want to ride a motorcycle. We therefore need to have a more positive attitude toward the motorcycle industry. We should create opportunities for non-riders to test out a motorcycle. For instance, weekly exhibitions at spots in Tokyo where there are a lot of people so that people have the chance to see, feel and sit on a motorcycle. I believe it is important that we take the initiative to plunge ourselves into the public."
For the future of bikes! A stream of avid opinions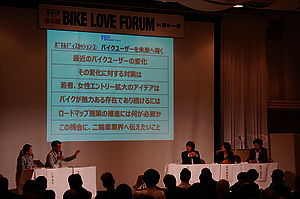 Discussion panel (2)
Panelists:
Hikaru Miyagi (former GP rider)
Hisashi Matsushita, editor of Autobike & Ride
Eri Harada, editor of Girls Biker
Akihiro Kitamura, director, CRETE Co., Ltd.
The theme of Panel Discussion (2) was "Guiding Bikers to the Future." Former GP rider, Hikaru Miyagi, moderated the discussion. Editors from motorcycle magazines were invited to sit on the panel and freely discuss their thoughts.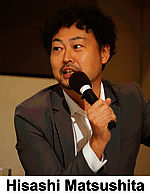 Hisashi Matsushita, editor of Autobike & Ride, called out to other riders. Matsushita commented that "It is an excuse to use the younger generation's moving away from motorcycles as a scapegoat for the stagnant motorcycle market. Young people who like bikes, ride bikes. If adults ride with style, then younger riders will follow it. Be a rider that can talk about their dreams to younger riders."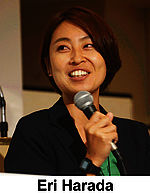 Eri Harada, editor of Girls Biker, spoke on the current trends among female riders. She said that, "The emotional response female riders have is completely different from that of male riders. Female riders may go out to purchase an American-type bike but end up buying a super sports bike. They go with their feelings rather than their knowledge of bikes. I think about the future of these female riders when I design the pages of the magazine. I make sure not to indulge our female audiences. I hope that one day, we will live in a world where female riders are just a part of the norm."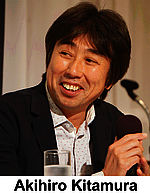 Akihiro Kitamura is a director at CRETE Co., Ltd., a company that publishes magazines such as Tandem Style. Kitamura started out by saying he did not want BLF to give up its goal of achieving a domestic motorcycle market of 1 million vehicles. He went on to discuss the necessity for revising laws and regulations on acquisition of motorcycle license. He spoke about how "Japan needs to change its license system to make this goal possible. From an international perspective, the categorization of motorcycles in Japan is unique. Going forward, Japan should make bikes with a 125cc engine displacement the standard for moped classification. People with regular automobile driver's licenses should be able to drive them."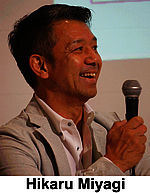 The last person to speak was Miyagi, who discussed his own sentiments. "Recently I have been giving riding lessons to adults. One of my students got his motorcycle license at the age of 65. I told this person, he could enjoy riding for another 35 years. We are in an age where Japanese live to be 100. Let's all ride until we are 100. To ensure that we reach this goal, let's live healthy daily lives."
Improvements to Japan's bike culture and environment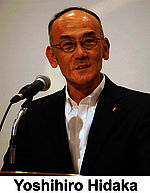 Yoshihiro Hidaka, chairman of the JAMA Motorcycle Committee gave general comments. He made the following observations. "I believe that many factors surrounding motorcycles is improving. I think it is terrific that there are so many riders with a high social moral standard and who want to support the reconstruction of the Tohoku region. Extensively I want to make it know extensively that the bike culture in Japan is improving. We are seeing signs of the adequate highway toll fees for motorcycles. The hurdles barring people from getting a motorcycle license (engine displacement of 250cc or more) has been lowered. We aim to implement events with a high social moral standard so that many riders can gather together. We plan to push forward with further improvements to bike culture, and share our knowledge so that we do not give up and ultimately reach our goal of 1 million units!"
Yamanashi Prefecture chosen as the host for the next BLF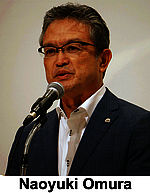 Lastly, it was announced that the next BLF in 2019 is scheduled to be held in Yamanashi Prefecture. Yamanashi is a great location, with a fantastic touring course that takes you around the area of the five lakes of Mt. Fuji. There are also hot springs and camp sites as well. Looking across the conference hall, Naoyuki Omura, chairman of the Japan Motorcycle Cooperative Society gave his closing remarks. "This year once again a heated discussion unfolded. Next year we will meet in Yamanashi. Just as if we were climbing Mt. Fuji, let's keep working hard and shift from first to second gear!"