One of the highlights of the event is the execution of the FAMI Declaration on Motorcycle Road Safety, wherein Presidents of member associations attested their support by signing an agreement stating that all FAMI members' activities will give priority on road safety in accordance to the following principles:
Promotion of the preservation and respect for life.
Provision of road users' education through training, seminars, dissemination of useful information and awareness campaigns.
Development of road users' proper behavior, attitude, skills and knowledge to mitigate risks.
Strengthening members' capability by exchange of information and best practices and sharing of resources.
Collaboration with stakeholders on improvement of road safety conditions and environment.
Improvement on product safety by technology development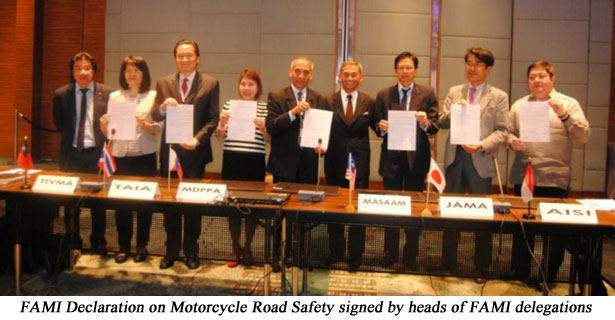 The next FAMI Meeting is set in March 2015 and will be hosted by the Thai Automotive Industry Association (TAIA) in Thailand.