Jakarta, 11 Sep 2014, UPN Veteran
Semarang, 29 Sep 2014, Unika Soegijapranata
Jogyakarta, 17 Oct 2014, Sekolah Vokasi Universitas Gadjah Mada
Bandung, 24 Oct 2014, Politeknik Pajajaran
Solo, 18 Nov 2014, FKIP Universitas Sebelas Maret (UNS)
Surabaya, 17 Mar 2015, Institut Teknologi Sepuluh Nopember (ITS)
Speakers in these seminar are AISI President Dr-Ing. Gunadi Sindhuwinata, who presented about the motorcycle industry, AHM Foundation Chairman Mr. Hari Sasono (about Safety Riding activities of the Foundation), Safety Riding Chief Instructors Mr. Emerson Tantono and Mr. Johannes Lucky (about Safety Riding Theory), RSA Chair Mr. Edo Rusyanto (about Road Accident Facts), and Traffic Police and or Land Transport Officers from each city, with the topic on Traffic Safety Rule. The attendants are university and hi-school students, about 100-150 persons in each city.
In these seminar we distributed Guidebook (Orderly, Secure and Safe Motorcycling on the Road) to all attendant and IMMA Whitebook (The Shared Road to Safety – A global Approach for Safer Motorcycling) to the Police and Land Transport Officers, University lecturers and representative of the student.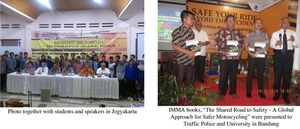 1 Astra Honda Motor
2 RSA = Roads Safety Association